Madden 15 Deals for Xbox 360 & PS3 Cut Price 25%
Gamers looking for the best price on Madden 15 don't need to look any further than two Madden 15 deals for the Xbox 360 and PS3.
if you own a new Xbox One or PS4 you can't save on this Madden 15 deal, but for users with the older consoles this is a great price for the new version of Madden.
Just two weeks after the Madden 15 release you can buy Madden 15 for $45, a savings of $15 off the retail price and you don't need to leave your home to get this deal.
The only drawback to these Madden 15 deals are that it can take up to 12 business days to arrive, but if you are doing some early holiday shopping or don't mind waiting to save 25% on the new Madden game. For comparison this is only $15 more than buying last year's copy of Madden 25, and you get a much better experience in Madden Ultimate Team and better defensive play.
Visit Groupon to buy Madden 15 for $44.95, a savings of 25% off the retail price of $59.99. This beats Amazon and Best Buy prices by a longshot.
You can buy up to three copies of this Madden 15 deal, but you can not ship to a PO Box, Hawaii, Alaska or Canada. Outside of these restrictions there is no real catch to the offer.
Read: 21 Madden 15 Tips & Tricks
Groupon will continue to offer these Madden 15 deals for three more days, so you can think about it and come back if you can't decide right now.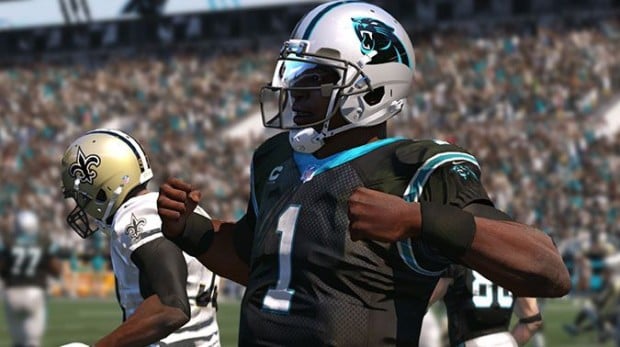 EA Sports just updated Madden 15 for the Xbox 360 and PS3, but there are several reasons to buy the Madden 15 release on a new console like the Xbox One or PS4. The Defense in Madden 15 for Xbox 360 and PS3 is improved, but not as much as on the new consoles. You also miss out on the new playcalling, Defense Camera, CoachGlass and defensive line jump on these older consoles.
If you are thinking of buying a new console to play Madden 15 on you can skip this deal and still save big. You can buy the Madden 15 Xbox One Bundle which includes a free game and this week only you can choose any other Xbox One game. So for $399 you get an Xbox One, Madden 15 and another new game like Destiny, which is $120 in savings.
Typically new Madden games don't see a major permanent price cut until the new game comes out. Madden 25, the old version from last year, is part of EA Access on Xbox One that lets gamers play five older EA games for a $30 a year subscription. This is not available on the Xbox 360 or PS3 though.