Madden 15 Player Ratings Reveal Top Rookies and Running Backs
EA Sports Madden NFL 15 is poised to be one of the biggest console games of the year, especially with the NFL season quickly approaching. Earlier this week EA started teasing and hyping the game by showing some popular rookie players responding to their in-game player rankings, and now we have all the numbers.
EA Sports released a quick teaser video showing some of the biggest names in the rookie class this year. From Teddy Bridgewater and Clowney, to Johnny Football Manziel and more all reacting to the low scores they received for the player ranking in the new game.
Read: Madden 15 Will Reportedly Make You a Better Player
With the August 26th release date quickly approaching more and more fans are getting excited about Madden 15. As promised, each day from now until August 6th EA will release the top 5 rated players from each position for the game, and today we have running backs. Below you'll see the rookie reaction video, rookie ratings, and which five RBs are the best in the business according to EA Sports.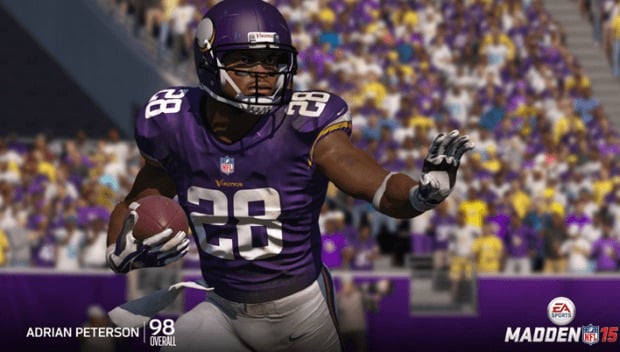 It's no secret EA Sports Madden is one of the most popular sporting titles for Xbox and Playstation, and it keeps getting better each and every year. And while the graphics won't be much improved in Madden 15 over the Madden 25th anniversary released last year, there's plenty of new features and content gamers should be excited about.
EA claims the graphics will be better, but the important changes will be the new rookie players each team drafted in the off-season, as well as better controls, and a redesigned and truly immesrsive defensive experience. At least according to EA Sports. They're touting defensive controls will be unlike anything we've seen, and make the game even more competitive than it already was.
That all aside, lets talk about player rankings, since that's always a big deal with each new release. As promised earlier this week we now have the top 10 rookie player rankings, which were released on Monday.
1. Texans OLB JaDeveon Clowney – 83 Overall, 88 Speed, 92 Acceleration, 86 Tackle, 94 Power Move
2. Rams OT Greg Robinson – 83 Overall, 87 Acceleration, 93 Strength, 94 Run Block, 88 Impact Block
3. Raiders OLB Khalil Mack – 81 Overall, 87 Speed, 80 Tackle, 84 Block Shedding, 87 Hit Power
4. Falcons OT Jake Matthews – 81 Overall, 82 Acceleration, 84 Run Block, 90 Pass Block, 85 Impact Block
5. Bills WR Sammy Watkins – 80 Overall, 93 Speed, 95 Acceleration, 95 Agility, 88 Catching
6. Jets SS Calvin Pryor – 79 Overall, 85 Speed, 89 Acceleration, 87 Agility, 95 Hit Power
7. Rams DT Aaron Donald – 79 Overall, 87 Acceleration, 93 Strength, 86 Power Move, 85 Block Shedding
8. Packers SS Ha Ha Clinton-Dix – 79 Overall, 85 Speed, 90 Acceleration, 84 Zone Coverage, 83 Hit Power
9. Titans RT Taylor Lewan – 78 Overall, 87 Acceleration, 90 Strength, 85 Run Block, 86 Pass Block
10. Jaguars QB Blake Bortles – 78 Overall, 73 Speed, 76 Acceleration, 92 Throw Power, 86 Throw Accuracy Short
My man Ha Ha Clinton-Dix makes the list, the Green Bay Packers new explosive Safety, which will join Eddie Lacy who was drafted last year by the Packers and was named the NFL Offensive rookie of the year.
As expected the Texans overall first pick JaDeveon Clowney tops the list with an overall score of 83, which is quite high considering these will all be first-year players. Getting a high 80s or low 90's score isn't easy to do, and even players like Adrian Peterson or Peyton Manning have a hard time getting high numbers across the board. That being said, here's the reaction each rookie had to those numbers shown above.
As we mentioned above, today EA Sports also released the player rankings for the top five running backs in the NFL. As expected Adrian Peterson tops the chart at #1, simply because he's a beast and can't be stopped. When you come as close as he did to passing Eric Dickerson's single-season rushing record, you deserve to be ranked number one.
According to SportsGrid Adrian Peterson comes in first with an overall score of 98. LeSean McCoy took second and is tied with Kansas City's Jamaal Charles with an overall ranking of 97. Then third does to the enemy at Soldier Field's Matt Forte with an overall Madden 15 player rank of 95. Last of the top 5 RB's this year goes to none other than Marshawn Lynch, who's basically often found eating Skittles on the sidelines and then trucking over defenders on the field. Lynch received a score of 95 just behind the Bears Matt Forte.
Again, over the next few days we'll see more and more Madden 15 player rankings be released, with the top 5 players of each position being revealed from now until August 6th. Then pre-season starts, weeding out the weak begins, and Madden NFL 15 hits consoles starting August 26th. Who's ready?

As an Amazon Associate I earn from qualifying purchases.