Madden 15 Release Arrives with Mobile Game in Tow
The NFL Season is right around the corner and about ready to officially kickoff, and that means it's also Madden Season. The official EA Sports Madden 15 release is here, and along with it is a brand new game called Madden NFL Mobile for those who'd rather game on the go.
Earlier this month EA Sports confirmed a new mobile game was coming, and today right on time it has been released for the iPad, iOS, and of course Android smartphones and tablets.
Read: Madden 15 Review: Is it Worth Buying?
Fans that have been waiting for the new game to arrive on consoles will also want to check out the new mobile game. We've seen Madden release impressive full-fledged mobile games in the past, and the new Madden NFL Mobile is surely one worth checking out. Just be prepared to get an awesome game for free, but be frustrated by the need to spend money on in-app purchases.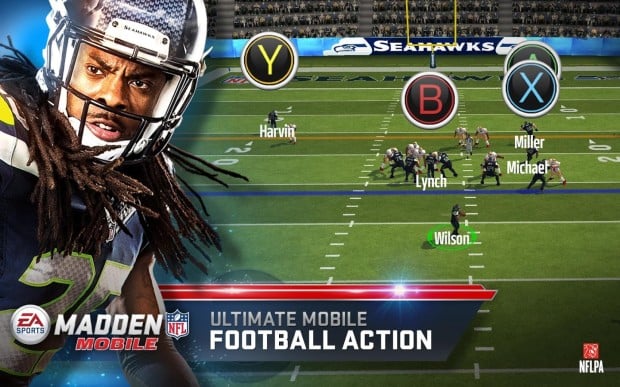 To coincide with the Madden 15 release date in the United States, users can now get the game on their mobile device of choice for some turf-action while on the go. While Madden for consoles draws quite the crowd, and tons of eager fans, the mobile titles haven't been as popular as of late.
EA Sports hopes to change that with a new Madden NFL Mobile that was redesigned from the ground up for mobile devices. They claim it offers the best controls for a Madden title on mobile, improved graphics, and tons of content to keep fans and gamers busy.
It's more of a mini game than a full out title, but will have you playing your favorite team, or NFL legends in minutes. In a system similar to Madden Ultimate Team, the new mobile title will allow gamers to collect cards of their favorite players, both current and past legends, and use them to play in-game. You can create your own team, or play with any of the full starters for the 2014-15 season.
Customize your roster with real NFL players you collect, manage, and upgrade, and then battle your friends and dominate on the field. It's an interesting concept, and actually extremely easy to play. Once you master the controls they're pretty good, but we quickly grew frustrated with all the popups and in-app purchase requests.
Yes Madden NFL Mobile is free for Android and iOS, but you'll only be able to play so much — or upgrade so far — before you'll have to spend some real money. The freemium system is at its worst here, but still, for those who love Madden it's worth the download.
Madden NFL Mobile has been added to the iOS Apple Store and should be available to download soon. #StayTuned

— Madden NFL Overdrive (@EAMaddenMobile) August 26, 2014
Above is a tweet from the official @EAMaddenMobile account, which confirms the game has been sent to the App Store for those on iOS. It isn't showing on our devices yet, but should be available for download extremely soon, so stay tuned.
However, those on Android can get it right now from the Google Play Store for most newer Android smartphones and tablets.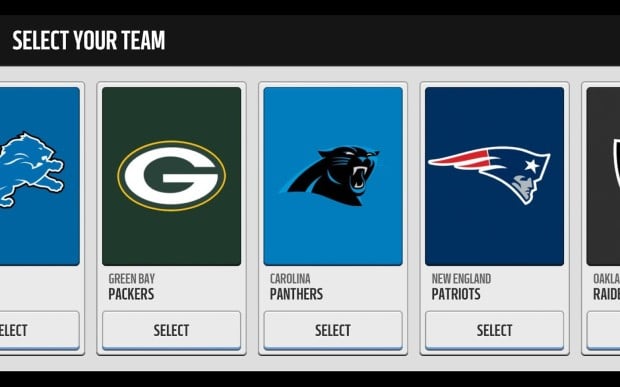 Once you collect all the cards you want and assemble the perfect team (like my Packers) you'll be able to quickly hit the gridiron and get in on the action. Take the team you just built into quick head-to-head matches, use them for challenges and quick games against your friends, or play a regular season.
Madden NFL Mobile has a full 16-game NFL season you can play too, and hopefully make it all the way to the Super Bowl, but don't get your hopes up unless you have some serious skills. The app is a large file nearly 200MB in size, so it's recommended that mobile users download it over a WiFi connection, then get started.
One more thing. There are live updates from real events, players, and games throughout the season. Meaning you'll be able to keep up with the real NFL even on Madden NFL Mobile. Be sure to launch the game daily to see the latest news, as well as tons of "daily challenges" to help you earn more rewards, and spend less real money on those in-app purchases. We'll give the game a try for a few days and report back with more details. Get it now for iPad, iOS, and Android.