Madden 16: 10 Things to Try Right Now
Here is a list of 10 things you need to try in Madden 16 now. These new features and upgrades will help you become a better player and help you get your full value out of the game. As soon as you get home and get Madden 16 installed, you should start with this list of things to do in Madden 16.
We recommend starting with these Madden 16 challenges before you go online and play friends or strangers as they will give you an edge on the competition. With new Madden 16 features you have more control over throwing, catching and defending — so your skill at each is more important than ever.
Madden 16 is $59.99 for the regular game and $69.99 for the Madden 16 Deluxe Edition that is hard to find after the release date. There are bonus items that allow gamers to unlock special Madden Ultimate Team mode Pro Packs with both versions.
Gamers can play Madden 16 on the Xbox One, PS4, PS3 and Xbox 360, but not all the new features are available on the older consoles. There is no PC, Wii U or Wii Madden 16 release planned.
Here are the 10 things you should try in Madden 16 as soon as you can get home and get it installed.
Use New Quarterback Pass Controls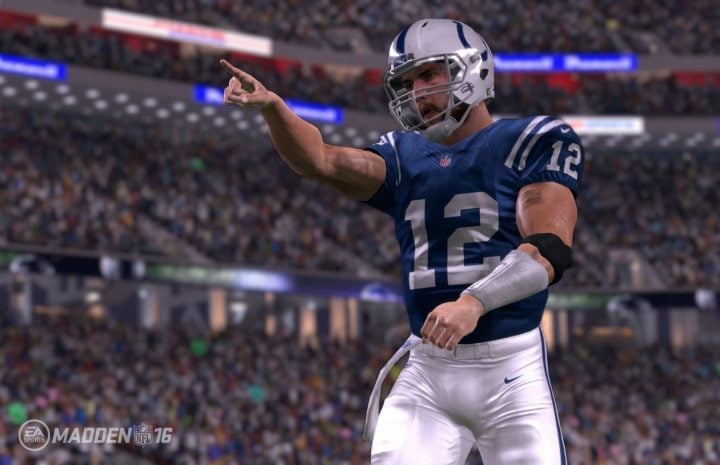 In Madden 16 you can control passes better as the quarterback. Instead of simply holding the button you want to throw to for a longer or shorter time you can now place the ball where you want it.
Press LB or L1 while throwing to a receiver to lob the ball up high. This is great to combine with a long throw and an aggressive catch.
Press LT or R2 while throwing to throw the ball low. This is essential when you need to put the ball in a location where only your player can catch it.
Double tap the receiver button when throwing to throw a touch pass to a player running a cross route.
Knowing when to use these will help you beat your opponents. You can also use the left stick to throw in the direction you push for more control. Try these out in the intro game you cannot skip and then in an offline game while you install to master the controls.

As an Amazon Associate I earn from qualifying purchases.