Madden 16: 5 New Details for Gamers Arrive
EA is certain that Madden 16 will bring you back to the game, and make you stop wishing for NFL 2K16, we learned about new player ratings that angered NFL players and we get an early look at the Madden 16 strategy guide that might help you beat your friends this fall.
The Madden 16 release date is August 25th, which is just over a month away and Madden Seasons is in full swing as we continue to learn about the new Madden game and get new information that fans want to know.
We recently highlighted 15 new Madden 16 features that will play a role in delivering a game that EA thinks is worth buying and shared must see Madden 16 gameplay videos that showcase the new features in action on the field.
Madden 16 is $59.99 and $69.99 at Amazon and other retailers. The game is coming to PS4, Xbox One, Xbox 360 and PS3.
While you wait for the Madden 16 money plays to arrive, here is the latest Madden 16 news and details that you need to know about this year's release.
EA Thinks Madden 16 is Crazy Good
In an interview with Polygon, Rex Dickson, creative director of Madden at EA Tiburon shares his frustration with gamers who continue to say that NFL 2K5 is still better than Madden.
We're going to win 'em over," Dickson told Polygon. "Even if it's one person at a time, we're going to win 'em over."
Part of the strategy is fixing long running problems that plagued Madden games for the previous 3-5 years. In the listings of new Madden 16 features on EA Sports we see a major focus on solving problems and adding realism to the game.
The new catch options and defender options to play the ball combine to form what Rex describes as, "…probably the biggest 'wow' moment generator we've put in the game in 20 years."
Madden 16 Strategy Guide Details
We now have our first look at the Madden 16 strategy guide from Prima Games that will set the stage for how many players learn how to be a better Madden 16 player.
In addition to the paper guide there is a digital version of the Madden 16 strategy guide that you can look at on the iPhone, Android, iPad or other digital device while you play, as a second screen.
The guide walks you through how to use the new features and the changes to Madden Ultimate Team as well as the new Draft Champions mode. The guide doesn't specifically mention Madden 16 money plays, but you can count on some as you get to see the best plays for your favorite team.
The Madden 16 Strategy Guide is $14.99 at Amazon.
Madden 16 Ratings Continue
Following up on the Madden 16 rookie ratings and reactions, EA Sports continues to share new information about the best players in Madden. Each day we learn about new player ratings and we are up to four categories, with another coming soon. Check out the ratings below.
Over the next several weeks you can count on more Madden 16 ratings to arrive as EA releases them day-by-day.
Players Aren't Happy with Madden 16 Ratings
Not everyone loves the Madden 16 rating that they get from the Ratings Czar and the team working with him.
Dez Bryant is not satisfied with his speed rating in the game. Bryant Tweeted his displeasure before deleting the Tweet.
That's really not right RT @mrolson299: @DezBryant @EAMaddenNFL Jamaal Charles only 92. Be thankful

— Dez Bryant (@DezBryant) July 23, 2015
Bryant is also not happy with the rating or Jamaal Charles, which he Tweeted and left up.
Also worth noting that Peyton Maning is not in the top 5 quarterbacks anymore, a major change for the quarterback who has yet to comment publicly on the change.
Free Madden 16 With Xbox One Bundle
This week we also learned that Microsoft and EA are teaming up again for a special Madden 16 Xbox One bundle that includes a free copy of the game and a year of EA Access.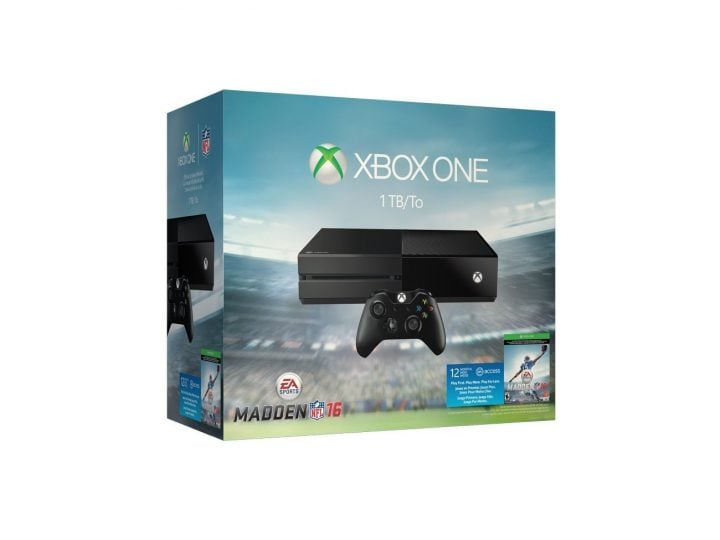 When gamers buy a Madden 16 Xbox One starting one week before the Madden 16 release, they can get these special bonus items in the marked bundle. This is a 1TB Xbox One console so the price is $399, but with that you get double the storage of the base Xbox One, a digital download of Madden 16 and you also get $30 worth of EA Access so you can play Madden 16 early, play other EA games early and play a bunch of older Xbox One games early as well.

This article may contain affiliate links. Click here for more details.