Madden 16 Deals Arrives Ahead of Release
The Madden 16 release date doesn't arrive for several months but you can already save $10 to $22 thanks to amazing Madden 16 deals that should last for several months. Like many deals, this one includes up front savings and a bonus that you can use on a future game to chop the price as low as $38.
There is no need to trade in Madden 15 for this Madden 16 deal, though last year we saw a giant trade in deal offer big savings right before the new Madden release.
EA is not bundling any Madden 16 beta with this deal, but you can still play early on Xbox One with EA Access, which should offer six hours of play time five days before the Madden 16 release date this fall.
The Madden 16 deals include up to $22 in savings for the basic version and $24 in savings on the Madden 16 Deluxe edition that includes added Madden Ultimate Team packs. This is valid on Madden 16 for PS4, PS3, Xbox 360 and Xbox One only at Best Buy.
Read: Madden 16 – 7 Things EA Needs to Fix
Anyone can get in on the $10 off Madden 16 deal, but you need to be a Gamers Club Unlocked member for the 20% off discount that sweetens the deal considerably.
Madden 16 Deals
The biggest part of this deal is available for Gamers Club Unlocked members. These gamers pay $30 for a two-year membership and get 20% off all games during this period. You can read our Gamers Club Unlocked review to learn how many games you need to buy to make this worthwhile. Here's how these two Madden 16 deals shape up at Best Buy.
You'll save 20% up front when you purchase the game, so you don't need to pay that at all. The $10 reward is Best Buy credit that you can use on another game at a later time. This is not as nice as an up front discount of $10 more, but it is still a great way to pay less in the end. If you plan to buy any other games like Call of Duty: Black Ops 3 or FIFA 16 it's a good idea to use this option.
Even if you don't want to use the Gamers Club Unlocked membership option you can still save the $10 reward on Madden 16. The $10 bonus is only available when you pre-order Madden 16. We don't expect to see Best Buy pull this option until the game arrives, so there is no need to order the game today to get this deal. At the same time, it may be a good idea to lock in the deal if you know you will buy Madden 16 no matter what.
The only other Madden 16 deal that we are counting on is from EA Access which offers 10% off a digital version of EA games on Xbox One. This isn't as great of a deal, and it is digital so you cannot resell it. EA Access members can trade in Madden 15 now and keep playing until the Madden 16 release date because EA Access now includes Madden 15.
Best Buy currently offers a 30% trade in bonus on video games until the end of the week, but the game is still worth less than $10 on the Xbox One.
The Madden 16 release date is August 25th in the U.S. on disk and digital. There are various pre-order bonuses that include added Madden Ultimate Team packs in addition to the Deluxe edition that gamers can pay for. There is no Madden 16 release for PC or Nintendo Wii U listed at this time.
We expect more info about Madden 16 at E3 2015 in mid-June when EA Sports will likely show off Madden 16 gameplay and announce more Madden 16 features.
Madden 16: 7 Things EA Needs to Fix
Interceptions & Turnovers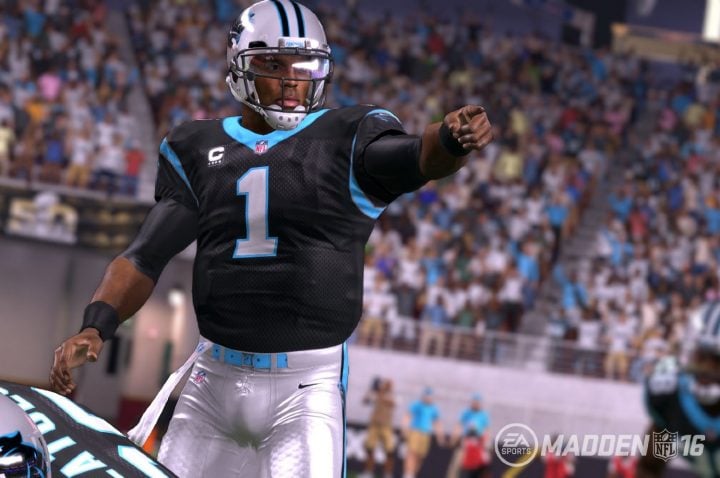 EA Sports needs to deliver a better mix of turnovers and interceptions in Madden 16. While playing hours of Madden 15 the number of unexplainable interceptions and other turnovers was too high. Some games it was impossible to make a single throw without an interception while playing. We also ran into our fair share of fumbles where the player literally turned and tossed the ball back and away with no one around.
There is hope that EA heard our complaints and plans to fix this in Madden 16. With a combination of Touch Control Passing and new receiver and defender Controls we are hopeful that EA fixed the randomness of interceptions, and adds some skill to both sides of the passing game.
We know that interceptions happen and that we will fumble at key moments, but Madden 16 can do a better job of normalizing the occurrence of turnovers and putting more control in the hands of the player.