Madden 16 Xbox One Bundle is the King of Madden 16 Deals
With the Madden 16 release just a little over a month away, many expected that video game retailers would have a mountain of Madden 16 deals in the works. If they are still preparing to offer some sort of deal to upgrades, they needn't bother. Microsoft has a Madden 16 deal that positively blows everything else away.
Microsoft announced what some are calling the ultimate Madden 16 deal this morning on its Xbox Wire earlier today. Essentially, Microsoft is bringing back the Madden Xbox One bundle that it offered to users last year ahead of this year's release of the game. The bundle costs $399 and goes on sale at most retailers on August 18th. There are some key differences though.
First, this Madden 16 deal includes a digital copy of Madden 16. Microsoft is stepping up its commitment by letting users download and try Madden 16 days before release through the EA Access subscription service. In fact, buyers of the Madden 16 Xbox One bundle get try out every game EA releases for an entire year. The company is throwing in a year of EA Access absolutely free. By comparison, those who aren't subscribed to EA Access can't play Madden 16 until August 25th.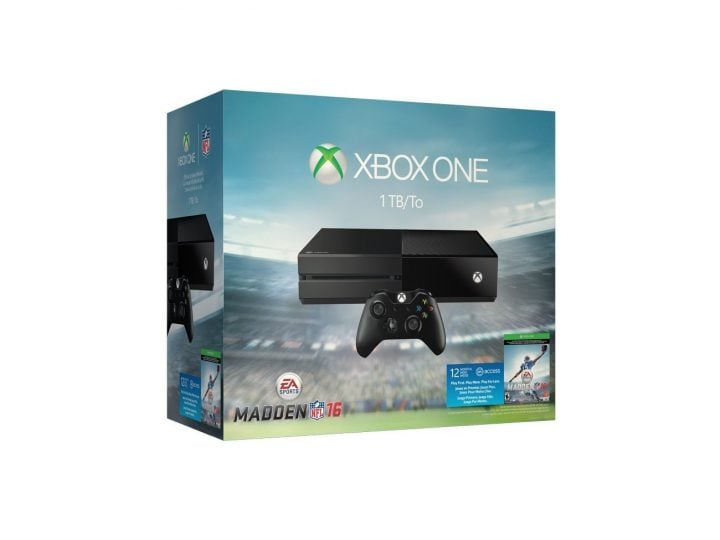 There are hardware perks too to buying the Madden 16 Xbox One bundle too. The original Xbox One launched with 500GB of storage and a wireless controller that users needed to purchase an adapter for headphones. The console included in the Madden 16 bundle has 1TB of storage. The extra storage gives users a larger cache for digital games and apps. The controller that comes with the 1TB Xbox One includes the built-in headphone jack that saves users from having to use a headphone adapter on their controller. Microsoft announced both updates just last month.
Read: Madden 16 Ratings: 5 Things to Know
Amazon is already taking pre-orders for the Madden 16 Xbox One bundle. Other retailers are kicking-off their pre-orders today as well. Every Xbox One comes with a single HDMI cable to connect to TVs, a power cable, a wireless controller and an Xbox One chat headset. Microsoft doesn't say how long the Xbox One Live free trial included with the console lasts, so it's possible buyers may want to factor that into their buying decision too. Having Xbox Live is the only way to use multiplayer on the Xbox One. The service costs $9.99 a month or $60 a year and also include weekly discounts on games plus two free downloadable games a month.
EA Access is what sends this Madden 16 deal over the top. Really, it's the most attractive video game subscription service around. Besides the discounts and free trials, EA Access subscribers get digital downloads from EA's Vault at no additional charge. The Vault is filled with sports titles like past versions of Madden, NHL, FIFA and NBA Live. Last month EA added Titanfall to the library. Later this year it plans to add Dragon Age Inquisition to the roster of digital downloads.
Read: Is EA Access Worth Buying?
Madden 16 encourages gamers to "be the playmaker" by introducing a risk and reward system for big plays. The game supports video recording for those plays too. There's also a refreshed fantasy football system included in the game.
Pre-ordering a standard digital or disc version of Madden 16 costs $60. There's a Madden 16 Deluxe Edition coming with extras for the game's built-in Ultimate Team mode and a LiveNation ticket discount for $69.99. Madden 16 is coming to the Xbox One, Xbox 360, PS3 and PS4. The Xbox 360 and PS3  versions won't look as stunning and have as many features.

As an Amazon Associate I earn from qualifying purchases.