Madden 17 Ratings: Top 10 Rookies & Reaction Video
The Madden 17 release date is just over a month away and EA Sports is finally sharing the Rooking Ratings for Madden 17. The company starts with the top 10 rookies in the game, showing off their Madden 17 ratings.
Every year EA strings out the release of the full Madden ratings over the month leading up to the new Madden release date, and it's now in full swing.
We know a lot about how Madden 17 vs Madden 16 compares with many new features including better physics, new running game options and ratings that actually matter.
Reading through what's new in Madden 17 you'll see multiple mentions of how rating now impact the play in new ways. Of course the player ratings mattered in the past, but it looks like Madden 17 ratings matter even more than ever.
The Madden 17 release date is August 23rd on PS4, Xbox One, PS3 and Xbox 360. Madden 17 is $59.99 for the base version and $79.99 for the Deluxe Edition. A $99 Digital Deluxe Edition is also available on PS4 and Xbox One. Here's more on how the Madden 17 versions compare.
Madden 17 Ratings – Rookies React
Following up on the grand tradition of telling NFL rookies their ratings with a camera pointed at them, here is a look at NFL Rookies reacting to their Madden 17 ratings.
The reactions are not always positive, and this year they actually put the players on the phone with the team at Madden in charge of player ratings.
Top 10 Rooking Madden 17 Ratings
Here is a look at the first Madden 17 ratings including the top 10 Madden 17 rookies.
Jalen Ramsey – CB – Jaguars – 93 Speed, 94 Acceleration, 90 Agility
Ezekiel Elliott – HB – Cowboys – 92 Speed, 90 Acceleration, 91 Agility
Ronnie Stanley – LT – Ravens – 83 Run Block, 86 Pass Block, 82 Strength
Roberto Aguayo – K – Buccaneers – 92 Kick Power, 94 Kick Accuracy, 74 Speed
Joey Bosa – LE – Chargers – 84 Finesse Moves, 80 Power Moves, 80 Speed
Laremy Tunsil – LG – Dolphins – 81 Run Block, 84 Pass Block, 88 Strength
Jack Conklin – RT – Titans – 84 Run Block, 81 Pass Block, 84 Strength
Corey Coleman – WR – Browns – 93 Speed, 93 Acceleration, 90 Agility
Hunter Henry – TE – Charges – 84 Speed, 89 Acceleration, 80 Agility
Deforest Buckner – RE – 49ers – 86 Tackle, 87 Hit Power, 83 Power Moves
These are the starting Madden 17 ratings, which will change throughout the season. If you visit the EA website you can see more of the ratings for each of these players.
Madden 17: 11 Things Gamers Need to Know
Madden 17 Release Date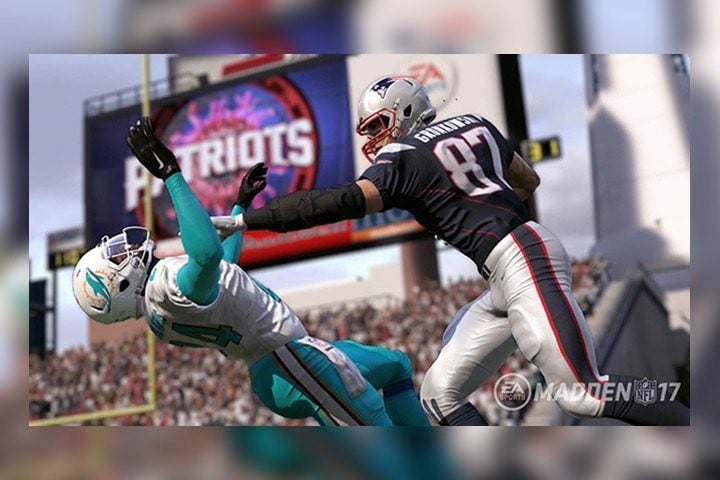 The Madden 17 release date arrived on August 23rd on a disk and digitally. There is no exclusive on the actual Madden 17 release date or on updates that will sway which console you purchase it on, which is good news for many gamers.
The Madden 17 release time arrived at 12:01 AM Eastern / 9:01 PM Pacific (Monday) digitally and there were midnight Madden 17 release date events.
The Madden 17 download is about 25GB and will take some time to complete.

As an Amazon Associate I earn from qualifying purchases.