Madden NFL 16 Release Date Surfaces
Gamers excited for the next big installment of Electronic Arts' Madden franchise no longer have to wildly speculate about a potential Madden NFL 16 release date. This week the video game developer and publisher formally announced Madden NFL 16 and revealed when users can expect the game to arrive on store shelves.
A blog post from EA points to an August 25th release date for Madden NFL 16 saying, "Hey football fans, we're sure you're getting pumped for the NFL Draft, and now there's one more thing to get excited about. Madden NFL 16 is in development and will launch on August 25th."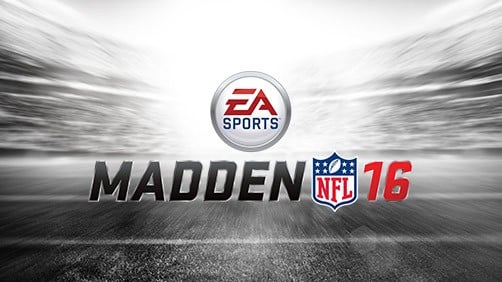 Whether there was ever any doubt there'd by a Madden NFL 16 coming at some point this year remains up for debate. The Madden franchise is synonymous with yearly release cycles. EA is encouraging hardcore Madden NFL fans to follow along on Twitter or Facebook for the latest news about the game and what'll be included. That's important, because EA didn't reveal a single feature that'll make it into the final game with this Madden NFL 16 announcement.
Right now, we know nothing about potential Madden NFL 16 features. Those upgrades are important for potential buyers since Madden is a yearly release that likes to tout progress as a reason to buy an upgrade year after year.
Without a doubt, what happens during this year's NFL Draft will reflect in Madden NFL 16. Roster upgrades complete with up-to-date statistics and new player line-ups are included with every yearly Madden release. Those roster changes are probably the biggest reason gamers come back year after year for a new game. It's likely we'll see a new cover athlete chosen roughly around the same time as the NFL draft kicks off too.
Madden NFL 15 focused the series presentation. EA hoped that big changes in the stuff that happens both inside and outside of the game would give it a more realistic feel. The company added new camera angles similar to the camera angles used by the NFL in real-life games. New scenes were added to the game to make it more lifelike and realistic. The screens inside each of the stadiums made use of the new camera angles, again lending the game a more realistic feeling than had been possible in previous games. Half-time shows were added back to the game too.
Madden NFL 16 could improve on these new presentation concepts even more, but it's more likely that we'll just see some enhancements to offensive and defensive play and maybe a revamp of the character models and animations used in last year's game.
Madden NFL 15 was the second best-selling video game made available in the United States last year. To keep that success going, Electronic Arts is going to need some big name features to point to as a reason for dropping $60 on yet another title in the series. That's especially true as Madden is expected to have some actual competition this year.
Rumors indicate that there's a Joe Montana football game in development for Microsoft's Windows and Xbox platforms for release this summer. Microsoft hasn't confirmed the rumors yet, but Montana himself keeps hinting at a partnership with the company. On Twitter he made remarks about Microsoft's huge Redmond, Washington campus, hinting that he was there.
WOW I forgot how beautiful Seattle is when the sun is out! Never been on Microsoft campus before, this place is HUGE!

— Joseph Montana (@JoeMontana) April 14, 2015
Allegedly, the game he and Microsoft Studios are collaborating on will be called Joe Montana Football 16.
Read: Xbox One Exclusive Coming to Blitz Madden NFL's Lead
We should hear more about Madden NFL 16's new features and more during this year's Electronic Entertainment Expo too. That show starts in mid-June and sets the stage for video game releases coming later this year.

This article may contain affiliate links. Click here for more details.