Magic Cable Can Charge 99% of Your Mobile Devices
If you have more than one mobile device, you probably have a snakes den of cables in your mobile bag or in your car. I know I do.
Instead of lugging around extra cables or adapters, why not try charging your devices with Magic? Not Harry Potter Magic, but the Magic Cable Duo and Trio chargers.
The new Magic Cable Duo and Trio chargers from Innergie allow you to charge your iPad or iPhone as well as 99% of your other devices.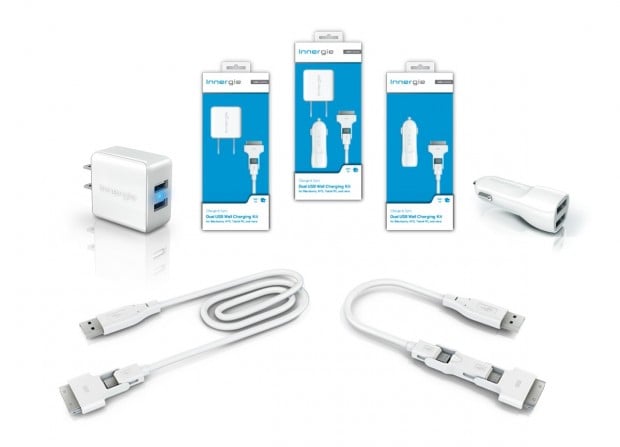 The Magic Cable Duo has an iPhone charger and a Micro USB charger, while the Trio adds a Mini USB charger to the mix. Unlike most of these multiple device charging solutions, the Innergie Magic Cables offer an elegant flip back charging design that keeps the clutter to a minimum.
In addition to avoiding a tangle of cables, this solution keeps the charging tips connected to the cable, so you don't have to worry about losing a charger tip in your bag or leaving it at home when you go on a trip.
The Magic Cable chargers come with your choice of a dual socket wall charger or a dual socket car charger with prices starting at $34.99. You can get both the home and car charger and your choice fo the Duo or Trio for $49.99. If you just need the cable, you can pick up the Magic Duo for $24.99 and the magic Cable Trio for $19.99.
The home charger has 15W output, for full speed iPad charging, and the 10W car charger has enough power to juice up the iPad on the go.
It's a bit surprising that it took a company this long to come up with an elegant mobile charging solution that handles the wide array of devices we carry.
Via GigaOm