MagSafe Charger for iPhone 5s Touts Hassle-Free Charging
Apple's Lightning connector is a huge improvement over its legacy 30-pin cable, but a new Kickstarter campaign aims to bring the MacBook's popular MagSafe connector to the iPhone as an even better option.
The accessory lineup is called Cabin, and it includes a MagSafe attachment for your iPhone 5s or iPhone 5, a MagSafe adapter for your Lightning cable, a MagSafe iPhone dock, and a battery case that adds 130% more juice to your iPhone.
The most notable accessory in the bunch is the MagSafe adapter and the iPhone attachment. This allows you to plug in your iPhone effortlessly, since it uses magnets that perfectly line up the charging pins, so the cable only has to be in the vicinity and the magnets will do the rest.
If you're not familiar with the MagSafe technology, it's a feature that you can find on MacBooks. Instead of using a traditional plug connection like most chargers, MagSafe uses a magnetic connection to charge MacBooks. It's not only easier to connect the charger cable to the MacBook, but it's also a safety measure that prevents MacBooks from being knocked to the floor if someone accidentally trips over the cable.
We could easily see this same technology be used with the iPhone and iPad, but Apple decided to stick with a traditional plug system with its Lightning connector. However, Cabin looks to change the way you charge your iPhone.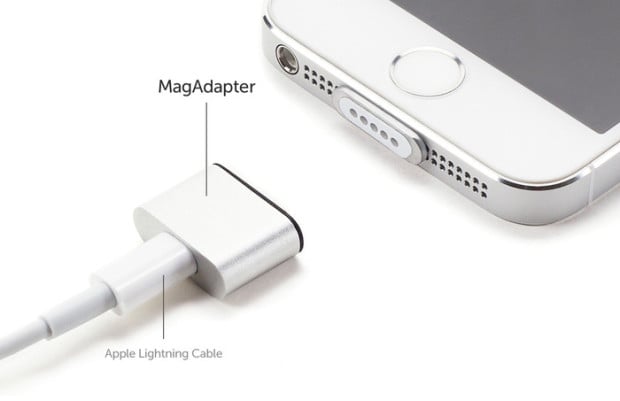 Pledging $25 will get you the iPhone MagSafe connector and an adapter that you plug into the end of your Lightning cable. Pledging $59 will get you the adapter and connector, as well as a custom iPhone dock with MagSafe that allows you to dock and undock your iPhone quickly and easily.
Furthermore, $89 will get you the adapter, connecter and the Cabin battery case, which gives you 2,200 mah of extra iPhone juice, which is 130% the capacity of the iPhone's battery in the first place. Plus,the battery case looks a lot thinner and less bulky than other battery cases out on the market, so it could end up being a big hit, especially since it connects easily to your iPhone with MagSafe.
Finally, $135 will get you all four items, including the MagSafe cable adapter, iPhone connector, the battery case, and the iPhone dock.
This is a great concept for iPhone and we're frankly surprised that we haven't seen anything like this until now, either from Apple itself or from third-party accessory makers.
Unfortunately, we think that this Kickstarter campaign will catch the eyes of Apple's lawyers and it probably won't end well. It's up in the air as far as whether Apple will do anything or not, but it's safe to say that the project could hit some roadblocks in the legal department.
Hopefully, though, the Kickstarter gets successfully funded and a new way to charge your iPhone will be born. MagSafe is an awesome technology to have, and we hope that Apple eventually cuts MacBook exclusivity and brings it over to iOS devices, but it's something that Apple engineers will probably have to think about, as the parts needed might not natively fit inside an iPhone in the first place.
In any case, if this is something that you're interested, go pledge now, but you have over a month to think it over. It looks like the campaign is well on pace to get funded, so there shouldn't be any worries there. Plus, $25 for MagSafe on your iPhone is kind of a steal, considering that Apple sells normal Lightning cables for $20 a pop. Hopefully these MagSafe adapters will catch on and we'll see more of this in the future.

As an Amazon Associate I earn from qualifying purchases.