3 Great Mailbox Alternatives
If you were a die-hard user of Mailbox, here are three great Mailbox alternatives that you should consider checking out.
The Mailbox app has been a popular email client on iPhone and Android for a while, but Dropbox has announced that it will be shutting down the app early next year.
Dropbox acquired the Mailbox app for $100 million in 2013, and just a couple of years later, the company is announcing its discontinuation. On February 26, 2016, Mailbox will be no more, and while it's not specifically know why Mailbox is going the way of the dodo, Dropbox says that it has "increased our team's focus on collaboration and simplifying the way people work together" as the company's reason for shutting down Mailbox.
The app hasn't made any major headlines recently, but it's actually been a rather popular email app for both iPhone and Android users, with a 4.5/5 star rating in the iTunes App Store from nearly 60,000 users, and a 4-star rating from almost 50,000 users in the Google Play store.
Read: 10 iPhone Apps You Need To Replace Today
But now that Mailbox is gone, here are three Mailbox alternatives that you should consider checking out.
Gmail
An obvious choice is the official Gmail app, which is available on both iPhone and Android devices. The app provides almost an identical version of the Gmail web app with labels, stars, and other features.
There's also support for up to five Gmail accounts and you can even search through your entire inbox to find a specific email. You can also send and receive attachments within the app and  organize your mail by archiving, labeling, starring, deleting, reporting spam, etc.
It's certainly better than the iPhone's stock Mail app, and while that app has its own unique features, nothing quite gets close to the Gmail app if you're a Gmail user.
Inbox
Inbox is another email app from Google, and it's aimed as a better version of Gmail of sorts. It takes what's great about Gmail and adds some more features and refines it a bit.
Perhaps one the biggest features of Inbox is that it bundles certain emails together for better organization. Similar emails are grouped together so that you can manage them more easily and more quickly than if they were individual emails.
Read: Gmail vs Inbox: Which One Should You Use?
Another neat feature of Inbox is the ability to snooze an email, which means you can be reminded about that email at a later time if you're too busy to deal with it right now. It's almost like you're receiving the email a second time, but only this time around it's arriving in your inbox when it's convenient for you.
Outlook
One email app that doesn't get enough credit is Outlook. Years ago, Outlook was mostly seen as the nerdy business-focused email client that most companies used, and it still is for the most part, but it's actually become quite the email app even for individuals.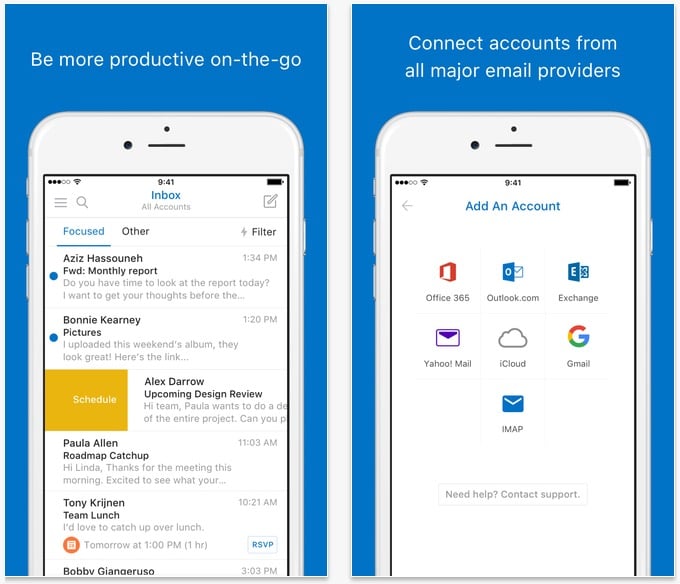 Perhaps the best thing about Outlook on mobile is that is has a clean and simple design that's easy to learn and master, so even if you aren't familiar with Outlook at all, you'll be able to become familiar with the mobile app in no time.
Outlook has two main sections: Focused and Other. Emails that are important to you are put in Focused, while everything else is put in Other, making it easier to read and respond to emails that you need to address.
You can also connect other services to Outlook in order to easily send and receive attachments, and you can snooze emails to be reminded about them later, which is a great feature to have for busy folks.

As an Amazon Associate I earn from qualifying purchases.