Mailbox Comes To iPad, Still Only Supports Gmail
Mailbox, the popular iPhone email app is now available for free on the iPad, making it easy for users to switch devices without switching email apps.
Mailbox for iPad brings the same features of the iPhone app to Apple's tablet, with a very familiar interface. The app gives users the same options to deal with email: they can archive, delete, snooze or save email to a list with simple swipes.
The goal of Mailbox is to make reading email conversations easier and to turn the inbox into something of a to-do list.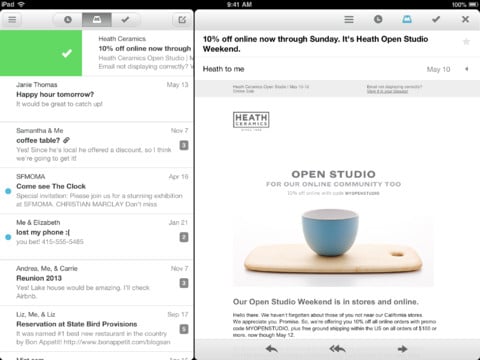 The new iPad version of Mailbox looks like a blown up version of the iPhone app that uses the same two-pane design as the default Mail app. The user's inbox appears on the left side of the screen, while messages appear in the right pane. The app only works in landscape mode, so it's not entirely like Apple's mail app, but it is close.
The apps sync so that once user snoozes an email on the iPhone, it will snooze on the iPad later. For now the snoozed emails will reappear in both apps at the same time, though that may change in the future.
Talking to The Verge Mailbox CEO Gentry Underwood said the company is exploring features such as snoozing email to specific devices. For example, a user can snooze an email from their iPhone in the afternoon that will only appear in the iPad app that evening.
While Mailbox initially used a virtual queue that made users wait to use it in the first few weeks, that requirement is now gone. The app got rid of the queue shortly after Dropbox acquired the company.
Mailbox still only supports Gmail accounts, though it may support other email services sometime in the future. For now those who use other email services will have to use multiple email apps on their iOS devices.

As an Amazon Associate I earn from qualifying purchases.