Mailbox for iPhone Lands With Focus on Inbox Zero
Mailbox, the iPhone app that wants to make users rethink their email inbox, is now available in the App Store.
Mailbox turns users email inboxes into something more closely resembling a to-do list than an inbox. The app lets users snooze or save emails for later with a simple swipe. Users can remove email from their inbox and set it to reappear at another time when they can actually act upon it.
Unlike other iPhone email apps like Sparrow, Mailbox supports Push notifications, making it easier for users to use the app as their main mail app. Mailbox can support Push because it routes new messages in the user's Gmail inbox through the company's own servers. That lets Mailbox notify users when they have new mail immediately instead of once every few minutes like Mail.
Mailbox also strips away a lot of the mess in emails. It reduces each message down to just the message. The result is that each email thread looks closer to a conversation in Messages than a chain of emails.
Users who want to try Mailbox should download the app now. The app is free, but there is a reservation system. Users have to wait before they're able to gain access to the app. Mailbox put the system into place so the large number of new users don't overload the company's servers on the first day.
As of this writing reservation system has almost 275,000 people waiting to access the app.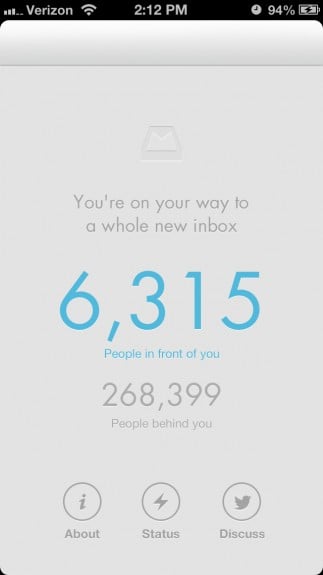 At the moment Mailbox, only supports up to five Gmail accounts at a time. The app defaults to a unified inbox, but users can also see separate inboxes for each of their inboxes. The app also unifies the archive and trash sections of each inbox, which may frustrate some users, but will delight others.
The only Gmail features that Mailbox doesn't seem to support are Priority Inbox and mute. It does support tags and other features, however.
There's a chance Mailbox may support other email services in the future, but for now it's Gmail-only.

As an Amazon Associate I earn from qualifying purchases.