Make Calls From Your iPad With Talkatone
The iPad, even the new 4G version, can't make phone calls when you take it out of the box. But, with a free app and a Google Voice account you can turn your iPad into a phone and leave your iPhone at home.
Talkatone is a free app for the iPhone and iPad that allows you to make and receive calls on your iPad over WiFi, 3G or 4G. There's no need to jailbreak your iPad or pay extra money to your carrier. If you have the new iPad with 4G, this is cheaper than getting a smartphone.
Talkatone works with Google Voice and Facebook, and despite the prompt to invite your Google Talk contacts to use Talkatone, no one you call needs to have the app installed. Any call to your Google Voice number will ring on your iPad.
Once signed in, you can dial any number with the touchpad or pick from your list of Google or Facebook contacts to make a call. You can also send and receive text messages on your iPad.
There are no fees to make and receive calls and texts in the U.S., you will need to sign up for a free Google Voice account. When you call or text, your Google Voice number will show up on caller ID.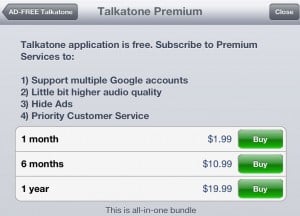 I tested out the app, making several calls from my iPad over WiFi with good results. During my first call, the recipient reported poor call quality at the start, but it improved after a minute. Subsequent calls had good call quality on speaker and Bluetooth. Sorry, you can't hold the iPad up to your head to make calls.
Talkatone reminds me why I wish I could buy a phone with a data only plan. I can make and receive calls over the data plan on my phone, but the carriers don't want to give up the lucrative minutes business.
The free version of the app shows ads, but you can pay to hide ads or buy an all in one subscription that lets you link multiple Google accounts, hide the ads and enjoy higher quality calls.
If you have a new iPad WiFi+4G, or even the older 3G iPad, you can turn it into a phone replacement with Talkatone.