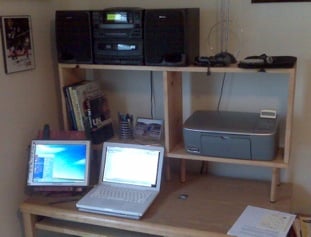 Very little brings me the joy that's experienced when a few pennies are pinched, dimes are saved, and dollars stay in my wallet.  A couple money saving projects I've completed this summer have been inspired by great do it yourself (DIY) web sites and articles that I have come across.
The first summer cost-saving endeavor was an office improvement inspired by an image submitted to Lifehacker's featured workspace series.  Lifehacker is a great site, detailing various hacks that even the common person can undertake.  The lack of additional space on my own desk was becoming a problem, and the addition of a cheap and functional desk shelf easily remedied my situation.  With a few simple measurements, wood from the local Menards, the right tools, and a Tim Taylor grunt, I was able to build the above desk shelf in under an hour.  After making sure it fit nicely, I stained it to match the desk for a seamless appearance.  Total cost for all items was around $13.00.  This was a much better option than spending several hundred dollars for a new desk.
The second project entailed the creation of a hand-made Tablet PC stand.  I picked up a cheap, used Motion M1300 Tablet PC on eBay and decided to make my own adjustable stand.  I wanted a stand that would look presentable, have a hinge to change the viewing angle and securely hold the tablet in place.  After perusing numerous sites for information and considering those that were for sale, the image below shows what resulted.  Total cost of project: $0.00.  I used hinges that I had saved from a different project, the wood was left over from my desk improvement project, and the stain was also left over from giving new life to our living room furniture.
Although these projects are cheap, you do have to be handy, have the right tools, and be flexible if things don't turn out exactly as planned.  Here are a few excellent resources that I consult whenever I consider getting my hands dirty, saving money and making something myself.
Lifehacker:  For great ideas for your own office, check out Lifehacker's featured workspaces.  No details, blueprints, or plans are available, but the offices that are pictured are often beautiful.  Many ideas can be gleaned from how other people organize their command centers.
Instructibles:  This site has tons of great material broken into categories that can be searched.  Of special interest might be their green how-to items.  The strength of Instructibles is in their easy step-by-step, visual presentation.  The how-to instructions at Instructibles are easy to follow and produce the expected results.
Ikeahacker:  This blog features excellent ideas for using Ikea furniture and accessories in creative, new ways.  They have a unique selection items that have been modified from their intended purpose.  Ikeahacker accepts submissions from anyone that is able to come up with a great idea using Ikea products.  You will certainly want to check them out if you frequent Ikea or have need for a $2.99 laptop stand.
DIY Network:  According to their site, "DIY Network is the go-to destination for rip-up, knock-out home improvement television."  DIY Network focuses primarily on home improvement projects and was created from the makers of HGTV and the Food Network.
DIYIdeas.com:  This site contains ideas for your home and garden and is owned by Better Homes and Gardens Magazine.
wikiHow:  Capitalizing on the success of Wikipedia, wikiHow is a community controlled site where anyone is free to contribute and edit how to do just about anything.  For example, check out this article on how to tape a hockey stick that I started in March, 2007.  Clicking the history tab allows you to see additional contributions from various individuals.  Like all wikis, caution should be taken as some of the advice might not always be correct.  Regardless, wikiHow is an extensive database of cool stuff.
eHow:  Similar to wikiHow, eHow is a written by a community of members and contains numerous topics broken into categories.  Their Internet how-to section contains over 22,000 articles, and they state that 6 million people visit eHow each month.
Re-Nest:  This site from Apartment Therapy focuses on greener living.  They often spotlight items that can be reused or repurposed.  Check out this search of their how-to posts to learn more.
Not only do these sites feature practical, money saving advice, they can be great for coming up with something to do on a boring, rainy day.  Teachers and parents can generate excellent ideas to help their children learn to follow directions, work together and complete projects.
So, what do you think?  When it comes to buying new or making your own, which do you prefer?  Leave your thoughts in the comments and share your own favorite DIY projects/web sites.

As an Amazon Associate I earn from qualifying purchases.