Make Your HDTV Look and Sound Better with the iPhone
A new iOS app from THX will help HDTV owners get the best possible video and sound out of their expensive TVs using just an iPhone or iPad.
The new THX Tune-Up helps users adjust the brightness, contrast, tint and color of their HDTV using their iPhone or iPad. Users can run the tests through an Apple TV with AirPlay mirroring, though THX recommends using AV cables connected to the iOS device instead, because Apple's protocol doesn't offer the best sound.
THX Tune-Up will guide users through getting the best picture and sound step-by-step. Each picture test will display what the result should look like on the iPhone's display, and will also use the iPhone's camera to help users determine if they got the picture correct. The walk through will also help users see what a difference the tests can make on their TV.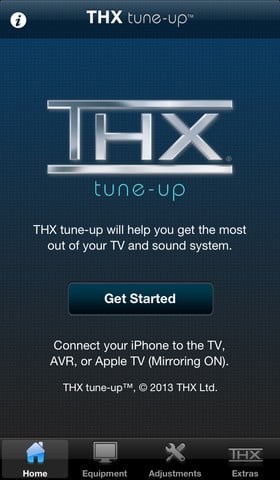 Testing sound is much simpler, involving only two tests instead of the six for video. The audio test will also help users make sure the sound is coming out of the correct speakers on their TV.
The THX Tune-Up app is free for the first week it's available, but the price will increase to $1.99 after that. Of course, the equipment needed to run the test is much more expensive. An Apple TV costs $99, and the AV cables that THX recommends cost $50 from Apple.
After tuning a TV the THX app includes THX-approved movie trailers to show off the newly tuned TV. The app also includes a Moo Can function for some reason.
While not everyone will care about perfect picture on their TV, the app is great for users who want a more accurate display on their HDTV. A better picture will help make movies and TV shows look and sound better. It's also nice to know when you're watching the Super Bowl with the best picture your TV is capable of, short of paying someone to come in and tune your TV.

As an Amazon Associate I earn from qualifying purchases.