Making the Wife Happy by Cleaning Up Cable Clutter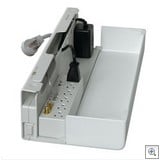 Well, maybe the headline of this post is slightly inaccurate. Read on and you'll see why. At home, my office is in my easy chair. Which means at various times I'll have multiple adapters for multiple devices growing out of a surge protector that is adjacent to another surge protector that has our TV, DVR, audio system, and DVD player plugged into it.
The whole mess is tucked away from view beside my chair, and depending on what I'm working on, it is either a really hideous jumble of cables and adapters, or a less hideous jumble of cables and adapters. Even if I'm running on battery which is normally the case, I frequently leave the adapters all plugged in so that I can just reach down and scoop up the appropriate one when I need a little juice.

Well, earlier this summer my wife decided she'd had enough of that tangled web and she purchased Belkin's Conceal Surge Protector. She gave it to me as a birthday present back in July. (Hmmm? Who is that gift really for anyway?) It comes with enough outlets to combine the previously mentioned two surge protectors into one, and the cables are now nicely arrayed so the corner is much nicer to look at.
So, as to that headline, she actually made herself happy. I had nothing to do with it. I just came home and all the work was done. That's why there are no before or after pictures because I wouldn't dare try to recreate what was there before and upset the happiness status quo.

This article may contain affiliate links. Click here for more details.