Man Implants 4 Magnets in Wrist to Hold iPod Nano
After Apple unveiled the new iPod nano in late 2010, we've seen a number of wristbands that turn the device into a wristwatch. To our knowledge, nobody decided to put magnets in their wrist to hold the iPod nano until now.
According to Gizmodo, tattoo artist Dave Hurban used dermal implants to secure his iPod nano to his wrist. Hurban implanted four perfectly placed, powerful magnets under his skin to hold the small iPod in place. Now Hurban can use his iPod nano as a watch without having to use a wristband.
The video showing the process isn't for those who hate the sight of blood, but it's interesting to see someone modify their own body seemingly without flinching just to avoid wearing a wristband.
Unfortunately Hurban might only have a few months to enjoy his new body modification if he likes to keep up with the latest Apple devices. Last year Apple refreshed the iPod nano's software, keeping the same hardware from the 2010 model. The company could do the same thing this year, but there's a chance that Apple will redesign the iPod nano.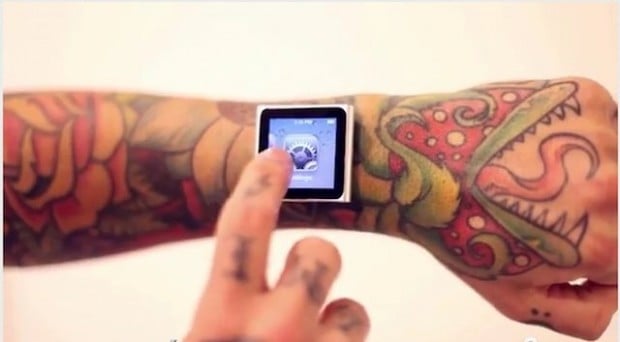 If Apple does redesign the iPod nano, Hurban's magnets might not hold the new version, especially if the clip on the back of the device decreases in size. It's hard to imagine an iPod nano getting much smaller without losing a lot of its functionality, but it's always a possibility.
Although, we imagine that a man sporting what appears to be a Piranha Plant from Nintendo's Mario games on his hand won't mind carrying around a slightly older device if Apple chooses to change the design later this year.