Manage your PS4 with the Official App for Android and iOS
Those preparing for their imminent arrival of the PS4 gaming console this Friday can now download the system's companion application for Android and iOS.
The PlayStation App arrived in the iTunes App Store and Google Play earlier this morning, two days before the PS4, Sony's follow-up to the PlayStation 3, arrives on store shelves. As expected, Sony is pushing the app as the only thing users need to stay connected to the console when they are and aren't at home.
According to the app's description in both stores, users can expect check what their friends and family are playing through an activity feed and profile viewing system inside the application. They can also compare trophies they've earned and receive notifications, alerts and invitations directly on their iPhone or Android device.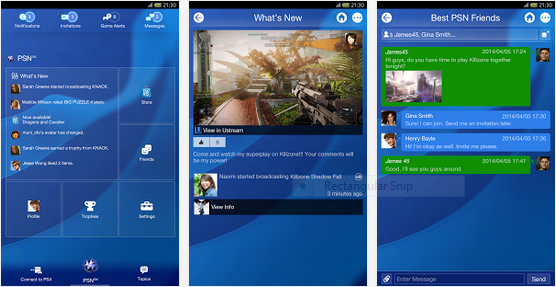 Sony is also extending the PlayStation Store to the application as well, PlayStation App users will find that they can purchase games and other downloadable content through the app from anywhere. Purchases made through the PlayStation App automatically download on the PS4. This way, users can begin a game download when they are at work or out shopping, then have the game ready to play by the time they get home. That's important since digital games are expected to require downloads measured in gigabytes. Of course, users can buy physical games too.
The PlayStation App should also help extend user's gaming experience at home too. Developers can include PlayStation App functionality in their games. This allows  user's smartphone to act as a sort of in-game tool or prop. The Division and The Crew will include PlayStation App functionality at launch.
Read: PlayStation 4 Mobile App Screenshots Leak
Users can read PlayStation system guides, console manuals and the company's PlayStation blog through the application too. The PlayStation App is free, however Sony has confirmed that users will a "Sony Entertainment Network account and PS4™ system are required to use all of this application's features."
Users can purchase the PS4 beginning November 14th for $399. 

This article may contain affiliate links. Click here for more details.