Mango Arrives on HTC Arrive, Trophy Windows Phones at Sprint, Verizon
Retail locations of Sprint and Verizon Wireless stores have begun to receive demo and display units of the HTC Arrive and HTC Trophy respectively with the Mango software pre-installed. Neither carriers nor Microsoft have given an exact release date of when the Mango software update will begin to roll out for these two CDMA Windows Phone 7 devices, but given that demo units are appearing with the software update pre-loaded, it could mean that Mango may be coming soon to both devices.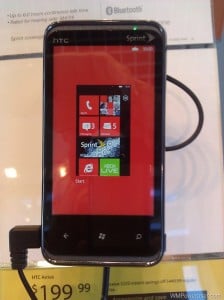 According to a Sprint store manager in a post over at WMPU, retail units are still not shipping with Mango pre-installed though the demo units are beginning to show up with Mango.
An earlier leak for AT&T suggests that AT&T will begin to roll out Mango to some of its Windows Phone 7 handsets starting on September 27. That carrier had also recently announced that it will be adding three new Windows Phone 7 handsets to its portfolio in the near future.