Get Your March Madness On With Slacker Radio And Other Sports Apps
For those of you suffering from March Madness and can't get to a TV, you can now listen to all of the NCAA Tournament games on your mobile device. Slacker Radio (iOS, Android) is broadcasting all 67 championship games.
Beyond this, sports fans will also be able to listen to other games in the future, including the Division I Women's Basketball Championship, Men's Frozen Four, the Men's and Women's College World Series, and more. Good news is that you don't have to pay any extra for access.
If you're serious about your sports, don't forget that there are a world of apps available for March Madness and beyond.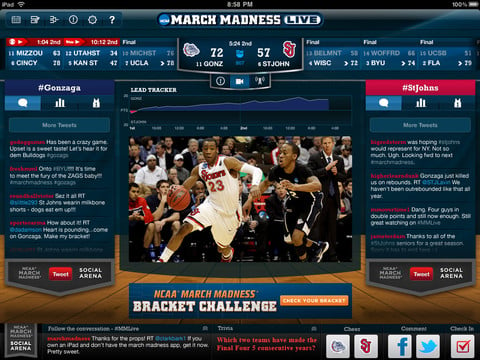 NCAA March Madness Live — Now available on both Android and iOS, this official app also includes live radio plus brackets, scores, and alerts. Upgrade tot he Pro version ($3.99) and you can even watch games on-demand.
Bracket — For those who wish to concentrate on and refine their bracket, this free app is perfect in its simplicity. Leaving the scores and videos and other types of feeds to other apps, Bracket does one thing and does it well. Available for Android.
SportCaster — If your enjoyment of the game is not complete without reactions from others on social media sites, this is the app you want. SportCaster will show tweets related to the game, be it during March Madness or any other, as well as scores and updates. For iOS and Android.

As an Amazon Associate I earn from qualifying purchases.