March Xbox One Update: What's New & Different
Microsoft's Xbox One entertainment console is in the midst of another of its software updates. Dubbed the March Xbox One Update, this free software upgrade for anyone and everyone that owns an Xbox One marks the return of a few features that were sorely missed. The March Xbox One Update also enhances a few other features, like the process of resetting an Xbox One or recording audio from your friends in a Xbox Live Party.
Beyond singular features, the March Xbox One Update takes a big leap toward becoming a great place to play Xbox 360 games, as well as Xbox One games.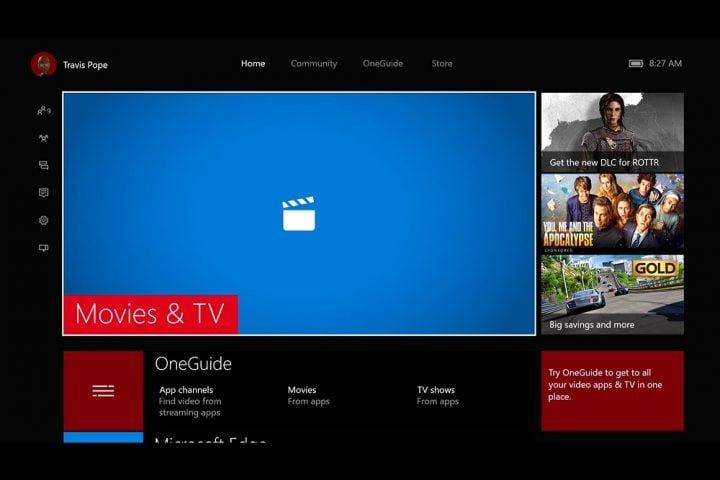 Here's what you need to know about the March Xbox One Update Microsoft is rolling out to users now.
Xbox 360 Store
The Xbox One Backwards Compatibility Program launched last year to cheers from longtime Xbox 360 owners and those considering upgrading to the Xbox One. Giving users the ability to play their Xbox One games on their new console was a smart move.
Unfortunately, Microsoft didn't get the execution right when the program launched. Digital Xbox 360 games in the program showed automatically, but there was no easy way to purchase an Xbox 360 game that was compatible without going to the Xbox website.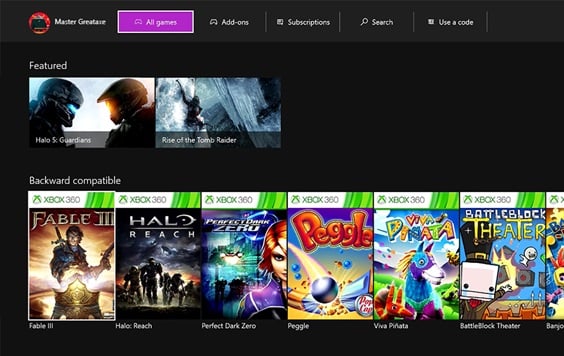 Microsoft solves this with the March Xbox One Update. The Xbox Store now includes a dedicated section for browsing and purchasing the Xbox 360 games that work on Xbox One.
Reset Without Deleting Your Games
A late addition to the March Xbox One Update, Microsoft has killed one of the huge problems with buying digital games. Unless they're stored on an external hard drive, resetting your console with digital games on it would wipe out everything. Downloading digital games isn't fun the first time since they can get pretty big. Downloading them a second time isn't very fun either.
With enough free storage, the Xbox One now resets itself, but has the option to keep your digital game collection intact. This means that you can reset the console because of an issue and still be playing your digital games within the hour. Definitely a smart move on Microsoft's part there.
Upgraded Party Chat
Not everyone joins parties and streams on Twitch, but thousands of people do watch Twitch streams. That makes Microsoft's changes to Party Chat something that everyone should celebrate.
Another last-minute addition to the March Xbox One Update, starting with the upgrade 16 different people can be in a single Party Chat at the same time. Besides that, Microsoft is also making it easier than ever for Twitch viewers to get the full experience in a multiplayer video. Xbox One owners can invite their friends to share their Party Chat audio too. This way, viewers can hear the entire conversation in team-based games, not just the rantings of one person.
Granular Sensitivity Controls for Xbox Elite Controller
The Xbox Elite Wireless Controller was made for users who want precision and prize customization. With the March Xbox One Update, Xbox Elite Wireless Controllers can alter the sensitivity of the joysticks on Microsoft's professional-level gaming accessory.
Change Game DVR Recording Length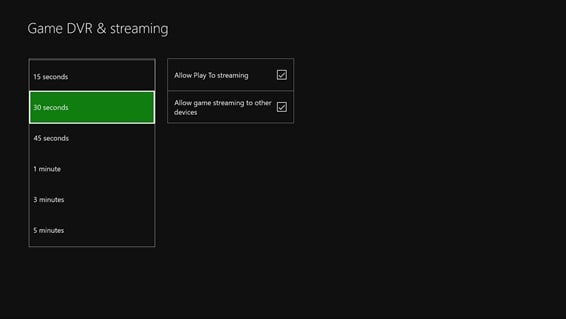 The Xbox One's Game DVR system is great for getting photos and video clips out of your favorite games. One thing that bugged people who used the feature a lot was its short length. Bowing to feedback from gamers, Microsoft has added a new toggle that lets everyone adjust the length of their Game DVR video recordings.
The default is still fixed to 30 seconds, but users can change it to 15 seconds, 45 seconds, 1 minute, 3 minutes or 5 minutes. Clips are still saved on Xbox Live, but can also be uploaded to Microsoft's OneDrive service.
Achievements Added to the Xbox Guide
App Snapping did way too much with the original software that run on the Xbox One. The feature did allow you to do two activities at the same time, but it also forced you into permanently giving up some of your screen real estate.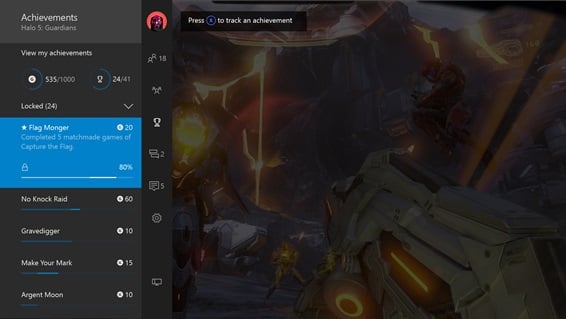 The Guide that launched last year gets its best feature update yet with the March Xbox One Update. Going forward, users can track their Achievement progress from the Guide instead of handing over permanent screen real estate to the dedicated Achievements app.
Upgraded Activity Feed
The Activity Feed gets some attention in the March Xbox One Update too. For starters, the feed will now show when Xbox One owners playing Xbox 360 games unlock an Achievement, which might sound basic, but wasn't present before. Video clips that friends record now auto-play in the Activity Feed.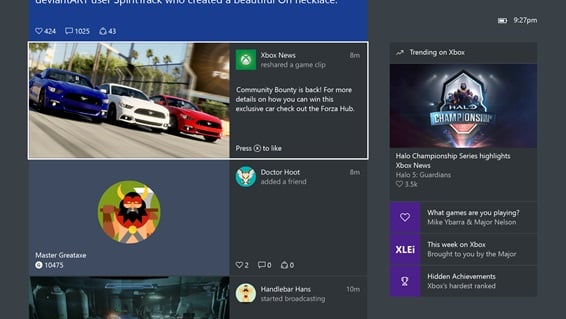 Microsoft has made it easier than ever to show someone that you like what they've posted too. Liking an item in your Activity Feed is a simple as pressing a button. Links in the Activity Feed to websites open in the console's Microsoft Edge browser, finally. This means that game developers can link you right to more information posted on their sites through the Game Hubs.
Everyone that's connected to Xbox Live will get the March Xbox One Update. That being said, users with the Power Saver mode enabled on their console will need to manually download the update the next time that they turn their console on.

As an Amazon Associate I earn from qualifying purchases.