Mario Creator Hints At A New Nintendo Franchise For Wii U
In a recent interview with Famitsu magazine, translated by Kotaku, Shigeru Miyamoto hinted that its time for Nintendo to add a new franchise to its lineup for the Wii U.
Shigeru Miyamoto is responsible for many of the top franchises that Nintendo owns. He created the Mario, The Legend of Zelda, Donkey Kong, Metroid and Pikmin universes for Nintendo. Nintendo will release new titles in many of his franchises throughout 2013 and 2014, starting with Pikmin 3 this August. But after that it seems Miyamoto has something new planned.
Read: Watch Nintendo's E3 Nintendo Direct Video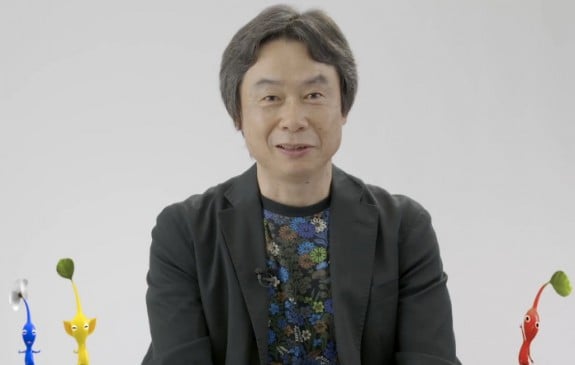 Miyamoto's direct quote from the Japanese magazine doesn't offer any details about the new franchise.
Famitsu: So, starting with Pikmin 3, you've got a lot of new Wii U titles planned up until the holiday season.

Miyamoto: With the recent version upgrade [of the Wii U], we've worked on the system side of things and we're planning on further system tweaks ahead, but even as is, [the Wii U] has become a useful item for the living room. However, it's pointless to talk about other features, no matter how fulfilling, without releasing games of our own, so we hope you'll look forward to the games to come. Next Spring, with the release of Mario Kart 8, we'll have a general selection available, so I've been thinking it would be a good time to bring out a new franchise.

Famitsu: A new franchise! An all-new title that you would be working on?

Miyamoto: I can't say too much in detail right now, but I've been pretty busy with this title these days.
The last major new franchise Miyamoto created was Pikmin for the GameCube. That game is nothing like the other games he created for Nintendo, and it seems the next game will be completely different as well. In a previous interview at E3 Miyamoto said that just creating new characters isn't enough. He thinks creators like himself have to focus on "creating a new gameplay experience that's fun and unique."
While Miyamoto works on his mysterious new game Nintendo will release Pikmin 3, Super Mario 3D World, Donkey Kong Country Returns Tropical Freeze, Mario Kart 8 and the new Super Smash Bros. for the struggling Wii U.
Historically Nintendo's games are the most popular games on Nintendo consoles, though Nintendo hasn't had much success selling the Wii U so far. Perhaps its upcoming games, including Miyamoto's new game, can help sell the home console that will compete with the Xbox One and PlayStation 4 later this year.