Market opportunity for UMPCs and Developers
During Intel's talk at Mobile Connections, they posted some very interesting slides that showed the market opportunity for UMPCs and the desired uses for UMPCs. The killer value proposition for folks buying a UMPC type of device is the need for pervasive connectivity to the real internet: webpages that display properly and appear like they should in a normal browser, instant messaging, email, getting necessary data through specialized apps while connected to the internet. That means UMPCs with WiMax, integrated WWAN, pc card access, or mass development of USB EVDO solutions are a must. It also means that software companies must begin coding their applications to take adjust for offline and online usage. People are desiring to move from offline to online to offline with as much transparency as possible.
When you examine the market opportunity, at first glance, it appears as if the market growth for UMPCs stays pretty static over the years, and that is pretty much true. However, what I see in the chart is the tremendous growth for smartphones, and then what the following interest area charts show. Smartphones offer instant access to the internet, email, and more. But people want to do more with data over the internet than smartphones can provide – that is the real opportunity and that is something that UMPCs and developers should aim toward with seamless internet.
Click the thumbnails to view the larger image.
Market opportunity for UMPCs – figures are in millions of projected units sold.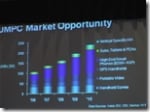 Survey results of items people want to do with handheld or UMPC types of devices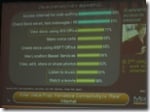 Microsoft's Mobile PC Vision. Note the change in terminology from Tablet PC to Mobile PC as the years progress.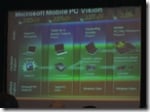 Microsoft's long-term vision of the Ultra-Mobile PC as set out with the Haiku prototype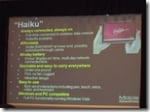 As an Amazon Associate I earn from qualifying purchases.