Marketers Eye Lucrative, Growing E-Book Market for Ad Potential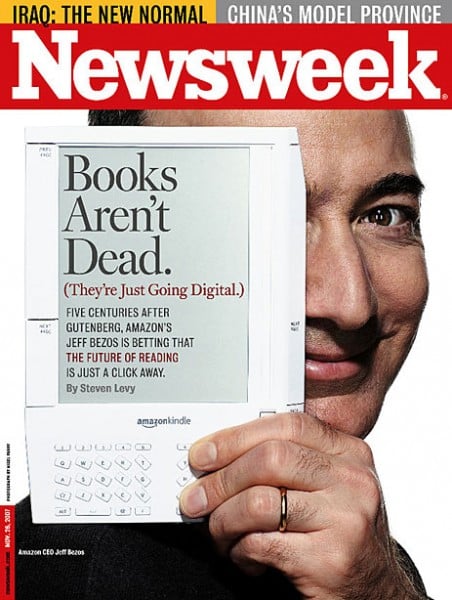 Marketers are now looking at the growing electronic book market to grow, and with that we'll hopefully start to see new pricing models and promotions for digital books. E-books, as they are called, will be another venue for advertisers to place ads, whether they be videos, graphics, text, or sponsorship advertisements, and these ads can appear either discretely in the border or obtrusively as a sponsored promotion demanding reader's attention as they open the book.
However, with an advertising model, perhaps e-book prices will decline. We'll either see discounted e-books containing promotional advertisements, much like how soap-making companies sponsored soap operas of yore, or even free e-books, much like today's free to watch Web streaming videos.
As the tablet market and digital reader market continue to grow, a drop in e-book price can help spur the adoption of the digital format. Perhaps e-books can be the next magazine medium–stories interlaced with advertisements to keep costs low.
It's unclear if readers and authors will be receptive to advertising in e-books. In the print world, there had been experiments with books with ads, but authors were not keen on the idea and revenues were small. However in the physical, print world, authors had to also rely on publishers and there was always a cost to books–printing, shipping, and distribution costs.
By going digital, the costs associated with a physical book would be eliminated and authors can even bypass publishers by self publishing on a number of mediums–from Amazon's and Barnes and Nobles' self publishing systems for Kindle and Nook to less known ones using more readily available PDF or EPUB formats–and flying solo through self publishing can mean that authors can control their own fate, revenues, and promotions.
With the self publishing models, book authors wouldn't have much to lose by placing non-obtrusive ads, much like bloggers on the Internet, that can help to augment, complement, or highlight the content that they're reading. If you're writing a book about Google–perhaps an Android, Google, Microsoft, or even iPhone ad may be relevant to your reader.
Wowio, a digital store, is already experimenting and making progress with advertisements in e-books, which can be downloaded to a computer or a tablet. Some of Wowio's e-books have three pages of ads–an intro ad, a closing ad, and a full page ad. The company is now looking to place ads between chapters and to target ads using the reader's profile information, which could be collected when the user creates a Wowio account. In fact, Fandango is partnering with Wowio for the promotion of Jack Black's movie "Gulliver's Travels." Movie-goers who purchase tickets through Fandango's site are given a copy of Jonathan Swift's novel with three pages of promotion from Fandango.
Wowio makes approximately $1 to $3 per book downloaded, and revenues are shared with publishers, who then determine how much of the ad dollars goes to the authors.
Over time, readers may not mind ads as much. In women's fashion magazines, which are often filled with more ads than content, ads help to complement the content by showing another complementary medium to showcase the latest style trends from fashion houses. In the early days of the Internet, users were opposed to ads, but as ads became more useful, non-obtrusive, and relevant to the content that users were exploring on the Internet, ads became more welcomed.
Ads in e-books, for now, are still a new concept. However, over time, with ads, we'll probably worry less about their obtrusive nature in our reading material and become more concerned over privacy.
Via: WSJ