Marshall Acton Bluetooth Speaker Review
If you're looking for a high-end Bluetooth speaker to use with your smartphone or tablet, the Marshall Acton is about the fanciest it gets for a Bluetooth speaker option.
Priced at $240 on Amazon, the Acton is no budget option when it comes to sound. It has the same look and feel of the company's line of guitar amps, allowing you to fit right in with the rest of the hardcore rockers even if you just have your iPhone to play music from.
In fact, it truly looks and feels like a normal guitar amp, but in a smaller size. If you didn't know this was a Bluetooth speaker, you wouldn't be able tell the difference between the Acton and a classic Marshall guitar amp, so that's really impressive for the company to build a consumer Bluetooth speaker with the same quality as its guitar amps and cabinets.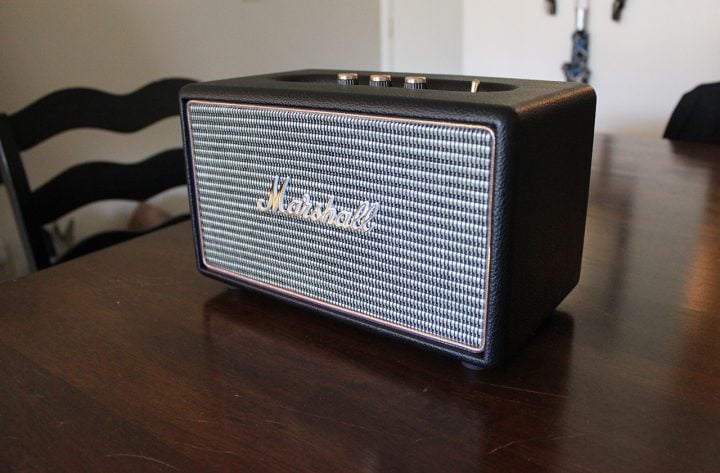 The speaker comes with a 4-inch subwoofer and two 3/4-inch dome tweeters with a frequency range of 50-20,000Hz and a crossover frequency of 4,200Hz, but enough about the technical specifications. The important thing is that it sounds good, and you can even tune the bass and treble to your liking, thanks to individual knobs at the top of the speaker.
Next to those two knobs are a volume knob, source selector button, pair button for Bluetooth, a nifty toggle switch for the power, and a 3.5mm audio jack for plugging a device directly into the speaker if you don't want to use Bluetooth. Plus, the speaker comes with a premium coiled audio cable to use if you don't want to use Bluetooth.
Weight-wise, this thing isn't the lightest speaker. In fact, it's pretty much impossible to carry it with one hand, but that's mostly because there isn't any kind of handle. Instead, you have to pick it up with both hands on the sides if you need to take it somewhere else. Plus, it doesn't come with a built-in battery and it needs to be plugged in to receive power.
However, it's clear that this is a Bluetooth speaker that isn't meant to be portable, but that isn't necessarily a bad thing. Some users just want a speaker on their shelf that they can use whenever, and the Marshall Acton is perfect for that.
For those wondering how loud the speaker can get, it can get really loud. In fact, it's mostly overkill for a smaller room like a bedroom or a home office, but if you're having a house party, the Marshall Acton can provide the sound level that you're looking for with ease. Of course, if you just like to play your music really loud, then that's fine too — the Acton can be at your service for that as well.
As for sound quality, it's really awesome to have individual knobs to adjust the bass and treble levels. I'm not an audiophile by any means, but the speaker sounds really good, and you can fine-tune it even more by using the bass and treble controls to make it sound how you want.
Of course, setting the bass and treble to either ends of the spectrum will seriously degrade the quality of the sound, which is why you'll need to find a happy medium when fine-tuning these controls, but the best part about that is that you can set it to whatever you want to customize the music to your ears.
I should warn you that this speaker is too nice and expensive to be used in a garage or outside, or anywhere else where it could be subjected to different elements. I love having music playing while I'm in the garage just as much as the next person, but the Marshall Acton isn't for that. Instead, designate it for indoor use only in a safe place where it won't get knocked over or drinks spilled on it if you're hosting a party or just having some friends over.
And if you need music for the garage or outside, it might be better to get something meant for those more rugged conditions, like Fugoo's lineup of Bluetooth speakers that comes in a rugged model.
In the end, though, Marshall Acton speaker is seriously really cool, and it looks just as good as it sounds. I actually admire the design of it more than the audio quality. That's not a dig on how bad it sounds (it doesn't sound bad at all), but merely just how good the speaker looks sitting on a shelf.