Marvel Again Offers 700 Free #1 Comics
Marvel's promotion offering 700 #1 comic issues for free is back, and the company has a plan to prevent servers from crashing this time.
Users interested in getting their hands on free digital comics can sign up for the promotion by this website. Interested users have until 11:59 p.m. ET on April 9 to sign up for the promotion. Then, on Thursday, April 11 users will start to receive emails with instructions on how they can get their free digital comics.
Not everyone will get emails about the promotion on April 11, as the two companies want to prevent the servers from crashing again. Any user who signs up for the promotion will gain access to the comics eventually, though it's not clear how long the emails will take to roll out.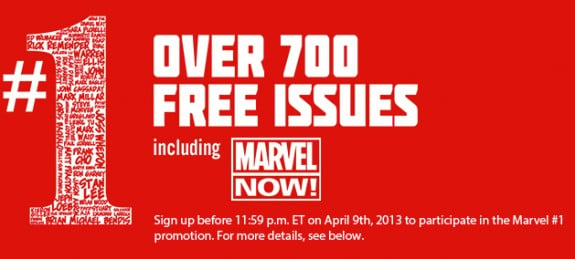 Previously Marvel and Comixology offered 700 free comics to users during the SXSWi conference. The promotion caused Comixlogy's servers to crash under the popularity of the offer. Marvel and Comixology hope to prevent that from happening by offering the free comics to users in waves.
The free #1 comics range from classic titles from Marvel's back catalog of comics as well as newer titles, unlike Marvel Unlimited which focuses on older comics.
The promotion even includes #1 issues from recent series in the new Marvel Now lineup. Marvel Now is a new universe that restarts a number of comics with new character designs and new teams of characters. It's similar to DC's New 52, though it doesn't replace all of the current ongoing Marvel comics.
After users gain access to the free comics they can read them in the Marvel Comics app either online in a browser or on the iPhone, iPad or an Android device.
The Marvel Comics app uses Comixology's Guided View Technology which lets readers read comics one panel at a time instead of panning and zooming around a full page. Users can still choose to view full pages, though unless they have a Retina iPad it's not the greatest experience.

As an Amazon Associate I earn from qualifying purchases.