Marvel Unlimited Offers Comic Subscription Service for iPad & iPhone
Today Marvel released its new Marvel Unlimited app for iOS, offering users a Spotify-like subscription to back-issue comics.
Marvel Unlimited, formerly known as Marvel Digital Comics Unlimited, lets users read a large portion of Marvel's extensive catalogue of comics for a monthly fee. The monthly fee typically costs $10 per month, though for a limited time users can sign up for a year of the service for $60 ($5 per month).
The new iOS app is an extension of the HTML5 app Marvel offers online, but it's easier to use on the iPhone or iPad. The app isn't as responsive as Comixology, but it works well enough to read the comics. The app lets readers view the comics by panel or by page like Comixology.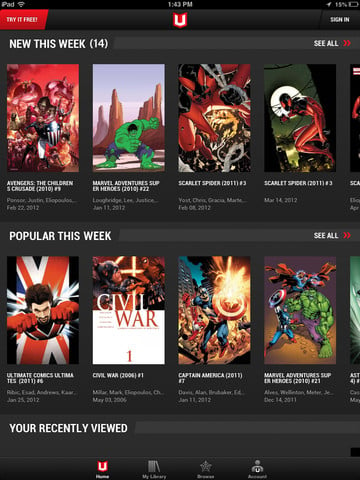 With Marvel Unlimited users can read any of the over 13,000 comics Marvel has available. The selection keeps growing, and Marvel says that recent issues should appear in the service after about six months. That's almost as long as waiting for a trade issue. Users who want new comics can buy them through the Marvel Comics or Comixology apps.
Users can read any of the comics available in Marvel Unlimited when connected to the Internet, and they can save a few issues to their devices if they wish to. Unfortunately, however, Marvel only lets readers save six issues at one time. According to Gizmodo, Marvel intends the number to cover a full story line.
Six issues isn't that many, though, and certainly not enough to last a plane ride. Marvel may increase the number if users ask. Gizmodo said they asked the company to give users the option to download 25 comics at a time, which seems like a good number.
The Marvel Unlimited app is available in the iOS App Store right now. The app is free, and users can read a few issues for free to try the service. Users who want to subscribe, however, must do so on Marvel's website.
The app will also come to Android sometime in the near future.

As an Amazon Associate I earn from qualifying purchases.