Massive HTC One Max Spotted in the Wild as Launch Date Nears
The rather large 5.9-inch HTC One Max smartphone is no small secret at this point. Having leaked numerous times over the past few moths. While most reports and leaks have been of renders and unfinished prototypes, today the phablet was spotted out in the wild being used.
It's safe to say a launch date is getting closer and closer. Especially with units out in the wild for final testing stages by looking at this picture provided by Phone Arena. The last report states HTC will be announcing a bigger version of its HTC One, the One Max on October 16th. Complete with a large screen and a fingerprint scanner all on board.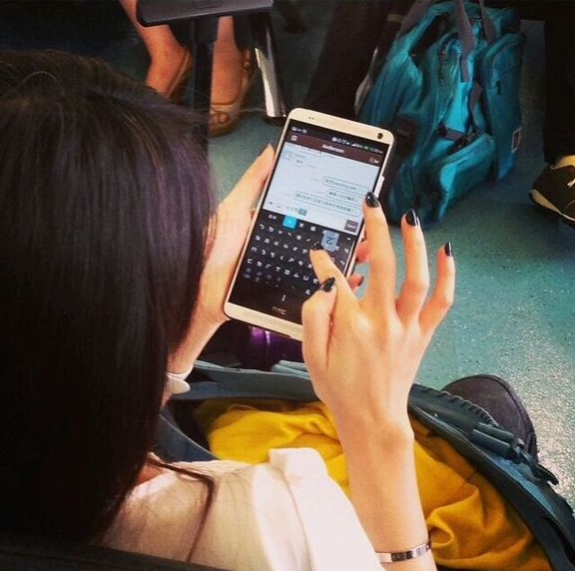 The image above is the first sighting of HTC's new smartphone actually being used in public and in someones hand. One look at it you'll instantly see just how big the smartphone actually is. Samsung's 5.7-inch Galaxy Note 3 has relatively small bezels surrounding the large HD display, but HTC and their front facing Boomsound speakers take up quite a bit of room.
We received a good comparison photo of the two earlier this month, showing just how big the One Max is when compared to Samsung's Galaxy Note 3. So it's fair to call this device a phablet. Not to mention it looks even bigger in the girls hand in the new photo revealed this afternoon.
Packing a 5.9-inch Full HD 1080p display and a 1.7 GHz quad-core Snapdragon 600 processor this smartphone has a punch. Then HTC added its popular Boomsound front facing speakers, Android 4.3 Jelly Bean and the new Sense UI, and a 4 megapixel "UltraPixel" camera on back. The other important aspect of the device is the fingerprint scanner, which is also located on the back. Following the iPhone HTC will be dropping this phone to market with some impressive new technology embedded in the back.
If the reported October 16th reveal in Hong Kong is accurate, we should be learning more here is the US on the 15th, so stay tuned come next Tuesday for even more details regarding this massive smartphone from HTC.

This article may contain affiliate links. Click here for more details.