Mauz: This iPhone Pointer Almost Makes Kickstarter Worth the Trouble
Mauz connects to an iPhone 4/4S using the 30-pin dock connector, or the new lightning connector on the iPhone 5. It turns the iPhone into a "smart mouse" with traditional right/left clicks and a gyroscope-powered remote control for a computer. It will also let the user gesture over the phone as it lies on a desk or coffee table. While this product looks really interesting, there's a significant drawback for us; it's a Kickstarter project.
Over the last year, we at GottaBeMobile went from enthusiastic Kickstarter fans to highly skeptical of the crowd funding site because of too many projects that promised big things, but often delivered less than they promised or didn't deliver at all.
Kickstarter projects ask supporters to fork over some cash before they even see a finished product. The idea entices many to get involved because projects usually promise interesting products and services at a lower cost for early support. For example, the Mauz will sell for $69 via retailers, but Kickstarter supporters can get one for as little as $45.
What Is Mauz?
Connect the Mauz to an iPhone and it turns the phone into a fancy mouse. The app offers a touch interface with right and left buttons to click. It also offers a scroll function.
The Mauz app also transforms a mouse into a touchpad. This gives full gesture control for swiping.
Pick up the phone with Mauz attached and use the gyroscope in the iPhone to control a computer in 3D like a Wii Controller. The app lets users program their own gestures.
Lift the hand off the phone and wave over the phone; the camera picks up the gestures and lets the user control their computer in a "Minority Report" style.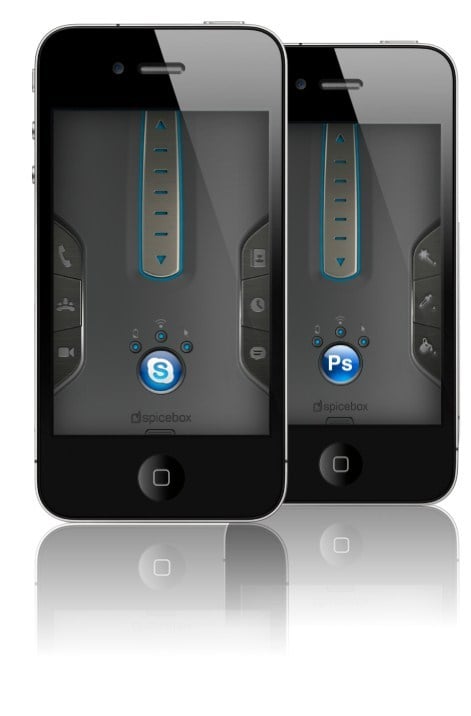 The Mauz will also allow users to program keyboard combinations. Notice above the blue icons for Skype or Photoshop. This shows when the app runs in a mode programmed for special uses. With an SDK, developers can add Mauz support to their own apps.
What's wrong with Kickstarter?
Too many projects take far longer than the project teams promise. The Mauz funding round will end on Kickstarter March 8, 2013. They hope to deliver in June 2013 for the one that connects via 30-pin dock connector, and August for the Lightning connector model. That means backers will see a charge to their credit cards in March, but they won't get the Mauz until June or August at the earliest.
While waiting only three months doesn't seem that long, based on my past experience; Kickstarter backers can't guarantee they will see the item on time… if ever. In our experience these promised delivery dates almost never get met by the project teams.
Orbit, a suction mount for the iPhone or other smartphones, promised to deliver the project in December 2011. Funders still wait with no delivery date in sight. The well-known project Pebble, a smart watch that connects to a smart phone via Bluetooth and displaying things like text messages, caller ID and more, missed its target ship date of September 2012 by nearly five months. Pebble promises to start shipping next week.
Recommendation
Mauz looks like a cool product and even tempts those who've grown skeptical of the Kickstarter model. If a buyer doesn't mind potentially losing $45, then feel free to back the project.
Other backing levels include $15 just to help out. They will get a Mauz branded mouse pad. Those who don't get on board quickly will pay $59 for their Mauz. At $129, backers will get a special aluminum model instead of the cheaper quality black plastic. At $270 users get to beta-test the product in March with a prototype and then receive the final version. Each of these comes with a nifty mini bag to carry the Mauz around.
For most potential buyers, we recommend waiting till Mauz officially ships to retail. We've been burned by too many Kickstarter delays or failures to recommend very many projects. The fact that this one gets our notice, though, testifies to just how usefully cool it potentially looks.

This article may contain affiliate links. Click here for more details.