Messenger Bag Director's Chair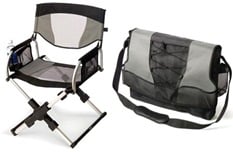 OK, I want one of these. It is a bit on the pricey side ($130) but I want one. This messenger bag opens up and gives you a director's chair to sit in. Supposedly it folds up to less than 4 inches in width. It is a bit on the heavy side at 9lbs, but I wouldn't be toting it around all the time. There is also a cup holder.

This article may contain affiliate links. Click here for more details.