Metal Gear Solid 5: 5 Things to Expect at E3
Later this year, Konami will release the latest installment in the Metal Gear Solid series dubbed Metal Gear Solid 5: The Phantom Pain. With E3 2015 just days away, we're getting close to some big announcements and today, we take a look at five things we expect from the Metal Gear Solid 5 release at this year's E3.
In March last year, Konami and Metal Gear Solid series creator Hideo Kojima released the first Metal Gear Solid 5 title dubbed Metal Gear Solid 5: Ground Zeroes. Ground Zeroes is puts players into the shoes of Snake and it takes them to Omega Base, a compound located in Cuba.
The game was originally supposed to arrive alongside Konami's other Metal Gear Solid 5 release but Kojima split up them up. And finally, after more than a year of waiting, we're finally starting to see the other Metal Gear Solid 5 game come to life.
Metal Gear Solid 5: The Phantom Pain is the next big release and it could wind up being the last Metal Gear Solid 5 game from Kojima. He will reportedly leave the company after the game's arrival. His departure doesn't spell an end to the Metal Gear Solid franchise but there's already been collateral damage including the cancellation of Silent Hills.
Kojima or not, Metal Gear Solid 5: The Phantom Pain is due out on September 1st for the PS4, PS3, Xbox One, and Xbox 360. And while a release is mere weeks away, we still don't have the full picture. Some sites recently went hands-on with the game though it's real coming out party will be at E3 2015.
With that in mind, we take a look at a few things we expect from Metal Gear Solid 5 at E3 2015.
An Epic Metal Gear Solid 5 Trailer
We knew that a Metal Gear Solid 5 trailer would likely debut at E3 2015 ahead of the game's release later this year. What we did not know is that the trailer would be six minutes long.
The well-known Geoff Keighley has confirmed that there will be an epic six minute Metal Gear Solid 5 trailer from Hideo Kojima at E3 2015. The trailer is going to run on YouTube's E3 channel because Konami will not be holding a live press conference to promote the game. That channel can be found here.
Monday on @youtube E3 live, don't miss the exclusive world premiere of the epic 6 minute E3 trailer for MGSV edited by @HIDEO_KOJIMA_EN

— Geoff Keighley (@geoffkeighley) June 12, 2015
You can also expect to get some kind of sneak peek at the trailer on Sunday when the E3 YouTube channel starts broadcasting from the show. Expect the trailer to confirm some new details.
Given Kojima's frosty relationship with Konami right now, we don't expect him to be the one that pulls the curtain down from around the new trailer. While he will probably be in attendance at E3 2015, he may not be a major player in any Metal Gear Solid 5 announcements.
New Metal Gear Solid 5 Release Details
You can expect to see new Metal Gear Solid 5 release details emerge at the event. We've already caught wind of a few including a new special edition Metal Gear Solid PlayStation 4 but there will almost certainly be more announcements over the course of the show.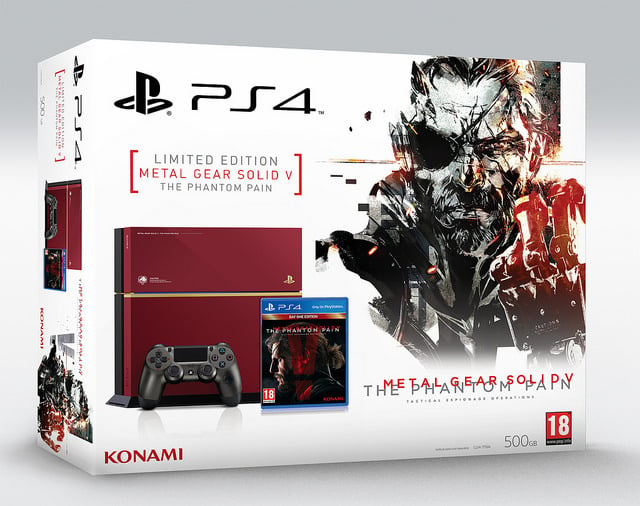 With the release date already set in stone, we'll probably see most of these release details revolve around extras like a new Metal Gear Solid 5 Steelbook Edition that recently popped up at Amazon Germany.
The game's release date is confirmed but it's clear that Konami and its partners still have a few announcements up its sleeve. Expect a few to be revealed at E3 2015.
New Gameplay Details
Video game critics were recently allowed to go hands-on with the game though their experiences were limited to one section of the game. Their impressions confirmed a number of new gameplay details though they did not confirm them all.
We fully expect new gameplay details to start trickling out of E3 2015 as Konami starts its marketing campaign. It obviously won't reveal everything but you can bet on new details and perhaps clarification of current details including the optional microtransaction system that has some people frustrated with the developer.
There's a lot out about this game right now but there's still room for Konami to expand on many of these details. We'd expect E3 to be the stage for that.
A Demo
Konami's let a few select people try the game out already but we wouldn't be surprised if it let more people try the game out ahead of time at E3 2015.
This would allow people outside of the press access to the game before its release, something that would almost certainly help to drum up excitement ahead of the game's arrival.
This demo might be private and not on the showroom floor but we'd expect the company to offer some kind of demo to those that haven't gone hands-on with it yet.
Few Surprises
Now that the game's release has matured to this point, we wouldn't expect Konami or Kojima to drop any Metal Gear Solid 5 bombshells at E3.
In other words, don't expect there to be a Metal Gear Solid 5 release date delay and don't expect the company to magically confirm a new release date for the PC version of the game. The PC Metal Gear Solid 5 release will arrive a few weeks after the release for consoles.
We might see some surprise characters and some other easter eggs but we're not expecting any huge surprises to emerge at the show. Gameplay details, new release details, a new trailer, and maybe a demo. That's about it.