Metal Moto 360 Release Date Emerges
After months of waiting through rumors and speculation, last week Motorola finally announced and released the new Moto 360 smartwach. As many of you already know, the Moto 360 was released last week but didn't last long as it sold out almost immediately. However, another version is coming early next month.
The Moto 360 was originally introduced with the choice of a leather band, or a metal watch band to give it that premium look and feel many consumers look for when buying a watch. However, last week it arrived with only leather as a choice, and in only two colors.
Read: Where to Buy the Moto 360 Today
For months we've been hearing rumors and seeing leaks regarding multiple leather options, the metal bands, and tons of other possible customization for the watch, similar to the company's smartphones, and at least one more option should be available sometime in November. At least if the latest product page from Verizon Wireless is accurate.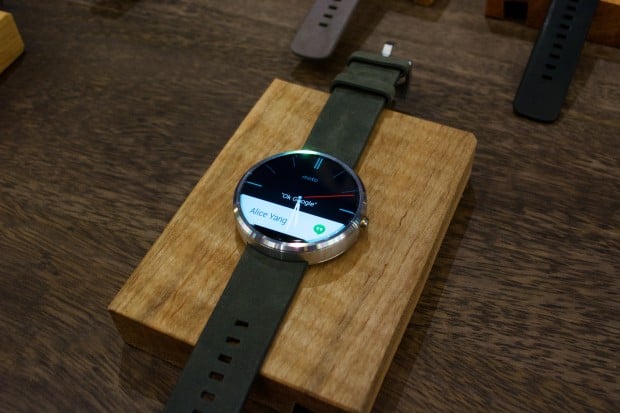 After launching the smartwatch late last week, which sold out almost right away and was a pretty poorly coordinated launch, Verizon has now spilled the beans on the metal Moto 360 release date.
According to Verizon Wireless, and the image below, the all aluminum Moto 360 will be available for prospective buyers starting November 11th for $299. Motorola simply stated the metal option was coming "later this fall" but Verizon is letting it be known that they'll have the device come November 11th. This could be an attempt to gain consumer attention, or to get Motorola to hopefully stick to the date, following the low inventory levels on launch day.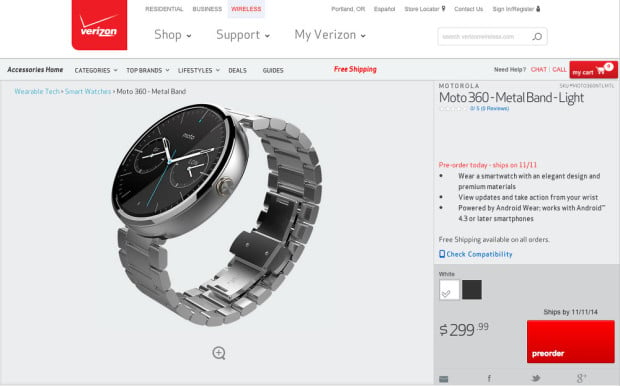 That being said, if the lack of inventory for the initial launch this weekend is anything to go by, Motorola and Verizon may have to delay that November 11th date by a few weeks, but we'll have to wait and see.
Read: Moto 360 Hands-On
The Moto 360 is $249 with leather, and later this fall users will be able to buy the metal strap for $79.99, making it a pretty expensive piece of jewelry. If you can hold off a month or so though, the metal-clad variant could be available in the first few weeks of November.
The Verizon product page shows both the white (or silver) model, as well as a black version, suggesting both will be available in the all metal option for $299. That's yet to be confirmed, but makes sense given both are available with leather as of last week.
It's also worth noting that by November 11th there may be an iWatch available, something that could rival Motorola's Moto 360, so we'll have to keep an eye on this moving forward and see what both companies have planned as the summer months wind down and fall starts up.
Motorola was quick to mention that based on the beautiful round design of the Moto 360, regular standard watch straps may not look as good as their own metal option, and they suggest buyers wait. However, if you were one of the lucky few that has the Moto 360 already, or will be getting it soon, regular 22mm watch straps should fit with no problem. You'll need to try a few and get the perfect fit, which may be your only option unless you'd like to wait another month for the metal version to go on sale.
Those still looking to get a Moto 360 can hit the Where to Buy link at the top of the page. While the smartwatch is sold out almost everywhere online, we're hearing Best Buy stores will have the device in-stock locally around the US starting September 14th. So stay tuned and we'll update the moment we know more details on availability.

As an Amazon Associate I earn from qualifying purchases.