Mets vs Dodgers Live Stream: How to Watch
The National League Division Series are underway as the Mets vs Dodgers starts tonight, as does the Cardinals vs Cubs series. Here's how to watch the Mets vs Dodgers live stream if you don't have cable.
This season, the Mets and Dodgers finished neck-and-neck, as the Dodgers won 92 games and the Mets won 90 games, but both teams clinched their respective divisions, with the Mets winning the NL East division for the first time since 2006, and the Dodgers winning the NL West for the third straight year in a row.
Both teams haven't won the World Series since the 1980s, so there will certainly be a special element in this series between the two teams.
The Dodgers are led this year mostly by their pitching, with Zack Greinke and Clayton Kershaw dominating the entire league in ERA, with Chicago Cubs pitcher Jake Arrieta sandwiched between the two on the leaderboard.
However, the Mets have some pitching prowess of their own, with starter Jacob deGrom and closer Jeurys Familia making the perfect nine-inning combo. Familia came in third with the most saves this season.
Whichever team you're rooting for, here's how to watch all of the action if you don't have cable.
Mets vs Dodgers Live Stream
All National League playoff games will air on TBS, which is a channel that you can only get if you have cable. With so many users cutting the cord and sticking to basic broadcast channels, there are probably a handful of users who can't watch the games.
Read: Royals vs Astros Live Stream: How to Watch
However, there's no need to worry, as you can easily stream these games on your mobile device, computer, set-top box, or gaming console of choice.
Thanks to MLB.TV, you can stream all National League playoff games, and it's only $9.99 to watch the entire postseason, including the World Series (this price also includes all of the Spring Training games next year, if you're into that).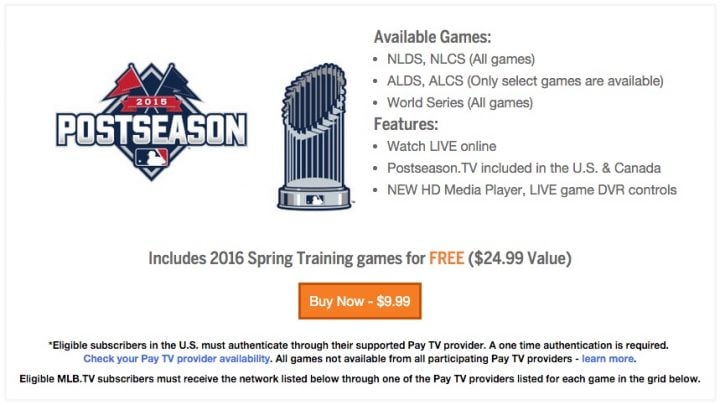 However, there is a tiny catch. Unlike during the regular season, US and Canadian users will need a cable subscription in order to watch playoff games with MLB.TV. Normally this isn't the case, with only blackout restrictions being the limiting factor, but it appears that rules are being tightened a bit during the postseason.
Read: Blue Jays vs Rangers Live Stream: How to Watch
However, not all hope is lost, and there is an easy workaround that you can use so that you can watch all playoff games without any restrictions.
All you need to do is use a VPN service, which essentially fakes your IP address and other info so that websites and other services think you're in a different location. So by telling MLB.TV that you're in the United Kingdom, you can watch all of the playoff games without blackout restrictions or needing a cable subscription, since MLB.TV is giving international users open access.
My favorite VPN service is Unblock-Us, and it's around $5 per month to use, which is incredibly cheap. All you have to do is change your DNS settings on your device and you're good to go. The link above shows you how to easily do this.
Unfortunately, Unblock-Us doesn't work on iOS devices when it comes to streaming MLB.TV, but it works great on the PS4 and in the web browser on any computer.
Once you have the service set up, you can change the location to wherever you want and then reload the page. From now on, MLB.TV will think that you're located in the UK (or other location that you specify).
Of course, it's just easier to have cable, but not everyone can afford it or even think it's worth it in the first place, and paying for MLB.TV plus a VPN service is still cheaper than most cable plans.

As an Amazon Associate I earn from qualifying purchases.