Mi-Co announces Print on Demand software for Anoto digital pen technology
Mi-Corporation is a company we continue to follow at GBM for their Tablet PC enabled forms automation software. They just announced some new licensing deals and its new "print on demand" software that uses Anoto digitial pen technology.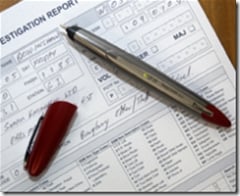 Here is a little from their press release:
February 8, 2007 – At an Anoto partner seminar in Washington D.C. today, Mi-Co, the mobile data capture software company, announced that it has licensed U.S. Patent 6,798,907 to Rover Technology Fusions. Mi-Co also announced the beta availability of its "print on demand" software for Anoto functionality digital pen technology, via the Mi-Forms on Demand product.
Anoto technology allows users to capture and use digital ink when writing with a digital pen on paper printed with special Anoto patterns. When the digital pen is docked to a computer, then information from the pattern allows for the conversion of the digital ink into text. Many Anoto functionality applications use preprinted forms with these patterns. With the Mi-Forms on Demand product, the specific form needed can be printed right at the point of data capture making the process a real-time process with data from the form interacting directly with the organization's back end databases.
U.S. Patent 6,798,907 was awarded to Mi-Co for its invention of a computer system that combines handwriting captured in real-time with pre-existing information, creating a "composite document." An example of a composite document is one that has been pre-populated by database information and signed with an electronic ink signature. This patent is one of several awarded to Mi-Co staff relating to mobile data capture software systems that allow users to write on paper or paper-like Tablet PC forms and then process the data in real-time.

As an Amazon Associate I earn from qualifying purchases.