Mi-Co Supports Motion's Mobile Clinical Assistant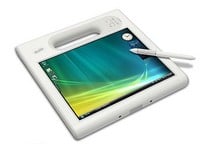 Mi-Co Corporation, the mobile data capture and forms company, will be supporting Motion's new C5 Mobile Clinical Assistant.
To effectively demonstrate the capabilities of the new C5 device, Mi-Co built a form-based sample application using Mi-Forms. This application was designed for the healthcare industry with the end users' needs in mind. It integrates Mi-Forms' industry-leading handwriting interpretation, Tablet PC forms development and Tablet PC forms runtime environments with the unique features of the C5: a barcode and RFID reader and a digital camera. This sample form is representative of the capabilities available to software companies developing ink-enabled interfaces for their enterprise applications.
via Sys.con Media >