Microsoft Adds 10,000 More Apps to Windows Phone Marketplace in a Month
In a period of less than a month, Microsoft is growing its Windows Phone Marketplace app store for its mobile phone platform by 20 percent. Adding 10,000 apps in the period, Windows Phone Marketplace now boasts 60,000 apps, up from the 50,000 apps announced just prior to the end of 2011.
The company says that 400 new apps are approved each day, and with Nokia on board adding visibility and scale to the platform, we may see even more apps get approved. At the rate that Microsoft is currently growing, the company may reach 100,000 apps in Marketplace by this Spring.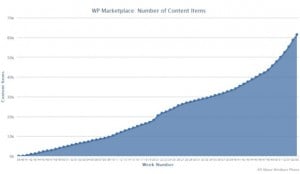 Windows Phone still trails its larger rivals by a significant margin. Apple is boasting over half a million available titles in its App Store and Google is now at 400,000 apps in Android Market.
In addition to quantity of apps available in an app store, there's also the issue of quality. Quality is more difficult to measure from a metrics perspective.
Microsoft's tight control over Windows Phone development and its hardware partners mean that apps will work on all phones across the board and we shouldn't see the same kinds of fragmentation issues that are plaguing Android. For instance, on Android, Netflix and Hulu Plus only works on select handsets due to licensing and security issues. On Windows Phone 7, these apps are playable across all handsets made by all manufacturers due to the fact that the internal specs (Snapdragon CPU, RAM, etc) are all tightly controlled by Microsoft.
Most recently, Nokia has been helping to add apps to the platform, though with some caveats. CNN, ESPN, and other titles that Nokia is bringing to Windows Phone 7 will enjoy a short exclusivity period for the company's Lumia lineup of Windows Phone.