Microsoft Announces Discounted Office 365 Personal Version
While iPad users wait patiently to get any "real work" done on an iPad until Microsoft finally releases a version of Office for the iPad, there is an announcement that might quicken the pulse of those who just can't get by without their Microsoft Office applications. Microsoft has announced Office 365 Personal, a new software subscription plan that will cost $69.99 a year or $6.99 a month. The discounted plan will offer the same benefits as the current more expensive version but allow users to download Office 365 only onto one computer and one tablet.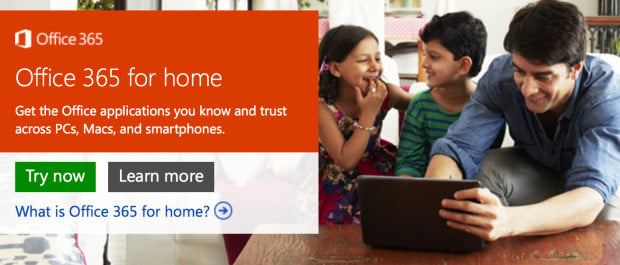 Microsoft's current subscription version of Office, Office 365 Home Premium, will adopt a new shorter name, Office 365 Home. That version will still retail for $99.99 per year ($9.99 a month) and allow users to download Office software on up to five different devices. Another benefit of Office 365 is that periodic updates are pushed through to all subscribers, keeping the software up to date. There is also currently a Office 365 University option for $79.99 that is a four year subscription.
Microsoft Office 365 versions currently come with Word, Excel, Powerpoint, OneNote, Access, Publisher, OneDrive, and Skype. The newer Office 365 Personal will come with 20GB of free OneDrive cloud storage and 60 minutes of Skype calling per month, just like the more expensive option.
Microsoft's subscription approach to its vaunted suite of Office products has been a success to date with over 3.5 million subscribers to date. The new "Personal" offering is geared for indvidual consumers on a budget and those who don't have more than two devices.
Rumors have been bandied about that a Microsoft Office version for the iPad is coming sooner than we might think and this announcement might perhaps be in preparation for such a release. Intriguingly, while Microsoft specifically mentions that this new version can be used on "one computer and one tablet," Microsoft's own ARM based Tablet, the Surface 2 already comes with a version of Microsoft Office absolutely free. That has been a major selling point for that particular line of hardware. The Intel based Surface Pro tablets that run a full version of Windows do not include Office for free.
Microsoft is in direct competition with Apple and Google who both offer their Office-like applications free of charge, and many iPad users have already found suitable alternatives to work with their Microsoft Office documents prompting some to think that an iPad version might be coming late to a party that is already winding down. Even so, there will certainly be interest in an Office 365 version for the iPad, even if users have to fork out a subscription fee to take advantage of the App on those devices compared to other free alternatives. Curiously this news comes a few days after a rumor that a free version of Microsoft OneNote might be coming for Mac computers.

As an Amazon Associate I earn from qualifying purchases.