Microsoft Announces New Surface Technology Program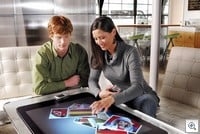 It ain't mobile, that's for sure, but it is touch in a whole new way. How about multi-touch interaction that can be shared among multiple users? Last night, Microsoft announced its new Surface Computing platform featuring the PlayTable that we hinted about yesterday. (Check out this video on Channel 10.)
Picture a surface that can recognize physical objects from a paintbrush to a cell phone and allows hands-on, direct control of content such as photos, music and maps. Today at the Wall Street Journal's D: All Things Digital conference, Microsoft Corp. CEO Steve Ballmer will unveil Microsoft Surfaceâ"¢, the first in a new category of surface computing products from Microsoft that breaks down traditional barriers between people and technology. Surface turns an ordinary tabletop into a vibrant, dynamic surface that provides effortless interaction with all forms of digital content through natural gestures, touch and physical objects. Beginning at the end of this year, consumers will be able to interact with Surface in hotels, retail establishments, restaurants and public entertainment venues.

The intuitive user interface works without a traditional mouse or keyboard, allowing people to interact with content and information on their own or collaboratively with their friends and families, just like in the real world. Surface is a 30-inch display in a table-like form factor that small groups can use at the same time. From digital finger painting to a virtual concierge, Surface brings natural interaction to the digital world in a new and exciting way.

""With Surface, we are creating more intuitive ways for people to interact with technology," Ballmer said. ""We see this as a multibillion dollar category, and we envision a time when surface computing technologies will be pervasive, from tabletops and counters to the hallway mirror. Surface is the first step in realizing that vision."
Don't look for this in stores soon, as the price point will initially be a bit steep. Initially you'll be seeing them in some interesting partner locations like casinos in Vegas, Starwood Hotels and Resorts, and T-Mobile stores. Read more in this press release.
What's the take away from this? Microsoft is opening up an entirely new category of sharing information. The mutli-touch, mulit-user approach is something that will certainly open some new avenues for interaction with their data in the future. We've been seeing these types of things in prototypes for awhile, so it will be very interesting to see how quickly this catches on.

As an Amazon Associate I earn from qualifying purchases.