Microsoft Band 2 Release Date Arrives
Today, Microsoft, makers of the Xbox One entertainment console and Windows operating systems, takes another step in its efforts to build a complete ecosystem for smartphone owners worried about their overall health. Today is the Microsoft Band 2 release date.
Starting today, anyone who pre-ordered a Microsoft Band 2 can expect their device to arrive. Microsoft is also selling the Microsoft Band 2 at its stores across the United States and the world. For the record, Microsoft calls the Microsoft Band 2, simply the Microsoft Band in its promotional materials. Most people call it the Microsoft Band 2 because it's an updated version of the sensor-laden wearable that the company made launched last year.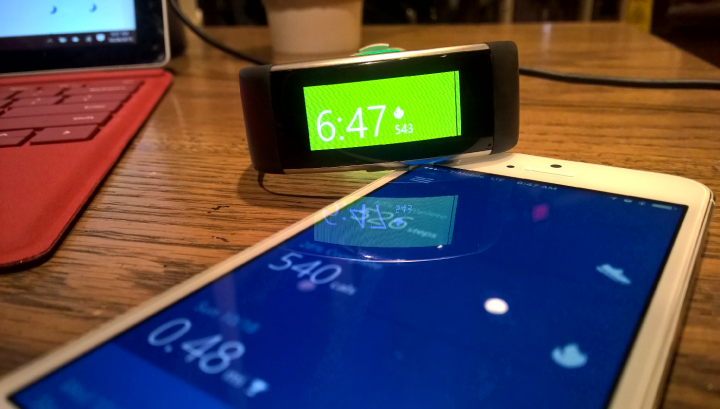 The Microsoft Band 2 is a crucial part of Microsoft's Windows 10 devices line-up. Besides fighting Fitbit for control of high-end exercise-focused wearables, Microsoft is also hoping to stave off the Apple Watch and  Android Wear. The Microsoft Band 2 is a gateway to Microsoft HealthVault too, a digital service that lets users manage their health records and share them with physicians. Gotta Be Mobile reviewed the Microsoft Band 2 this week.
Read: Microsoft Band 2 Review
The Microsoft Band 2 comes in three sizes so that it can fit around virtually any wrist, all for $249.99. Compared to last year's model, the Microsoft Band 2 is better looking. The company added metal accents to the face and buckle for some flair. The display of the Microsoft band now gently curves into the device itself, making it infinitely more attractive, we found.
Microsoft Store is showing all three sizes available for purchase this morning with free shipping and free returns. Amazon also has the Microsoft Band 2 in all three sizes for immediate shipping. Electronics retailer Best Buy has the device available for purchase too. Unfortunately, stock at Best Buy stores seems non-existent.
The device users sensors 11 different sensors built-into it to monitor users general health. There's an optical heart rate sensor, accelerometer, gyroscope, GPS, ambient light sensor, skin temperature sensor, UV sensor, capacitive sensor, galvanic skin response monitor and a barometer. Of course, only the barometer is new to this model. Coupled with on-board software and a companion app that users install on their iPhone, Windows phone or device running Google's Android, these sensor breakdown calorie burn, heart health and UV exposure.
Software on the Microsoft Band even allows it to track how much sleep wearers get. Users can look at the data the band collects with their phone or go to the Microsoft Health website for detailed analysis and comparisons to other people.
Built-in is support for typical exercise activities like jogging, biking and golfing. Microsoft has partnered with third-party apps, like Runtastic and Strava to extend their experience for Microsoft Band users. There are guided workouts for mixing things up. Users have to pre-load these workouts form their smartphone, but they're almost like having a personal trailer on call. Runs without a phone are still tracked thanks to the device's built-in GPS.
The Microsoft Band 2 competes with the Apple Watch and Android Wear in areas outside of fitness. iPhone and Android users get calling and texting alerts delivered directly to the Microsoft Band 2. The Band 2 also sensors when the user moves their arm upward, looking for the current time. There's a Starbucks app too, for when users want to leave their wallet at home.
When connected to a Windows Phone, Microsoft Band 2 owners get calendar tracking, email browsing, and can respond to text messages directly from their wrist. Cortana, Microsoft's digital personal assistant also takes commands from the device.