Smartwatches and wearables are said to be the future of technology. Certainly they're getting more popular to make. In the last calendar year, Apple, Motorola, Samsung and more have tried to muscle their way onto user's wrists. Almost without exception, most of those devices have failed to catch on. Fitbit does have some winners with its full-range of fitness bands. Wearable makers think that users either want a way to avoid having to pull their phone out of their pocket for each task or a barebones wearable sensor that they have to look at another screen to fully use. The Microsoft Band 2 is Microsoft's attempt to find some comfortable space in the middle.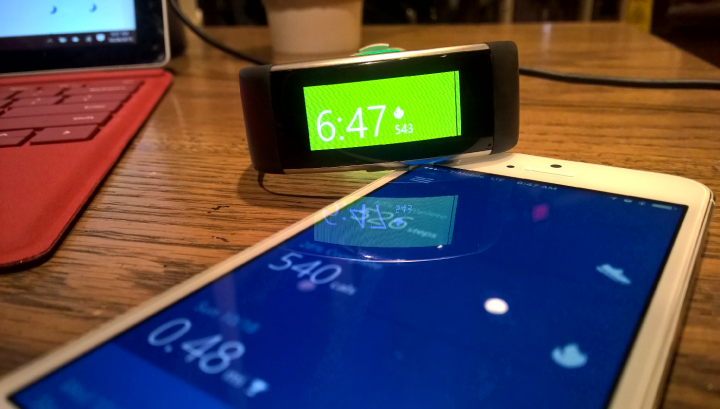 Instead of taking the typical approach though, Microsoft tried something a bit different. The Microsoft Band 2 is laser-focused – to a fault, some would say – on delivering the best workout experience. Microsoft also put an emphasis on making the Microsoft Band 2 the premiere device for anyone with a smartphone, no matter what type of smartphone that is. Does focus, compatibility, a new sensor and a fresh look help the Microsoft Band 2 stand out in a crowd full of fitness bands and watches trying to be everything in one package?
I'd say yes and no.
Microsoft Band 2 Review: Design & Internals
It was roughly a year ago that Microsoft formally announced its entry into the wearables space. I remember it vividly because I had an instinctively, "yuck" reaction to its design while reading about it on vacation. It's rubber-like watch arms made it sweat and moisture resistant. It's elongated display made it intuitive to interact with. They also made it look a bit unrefined. It was a classic case of function over form.
The Microsoft Band 2 does a better job of balancing form and function. In fact, it does such a great job that it's easy to picture normal people wearing it in public.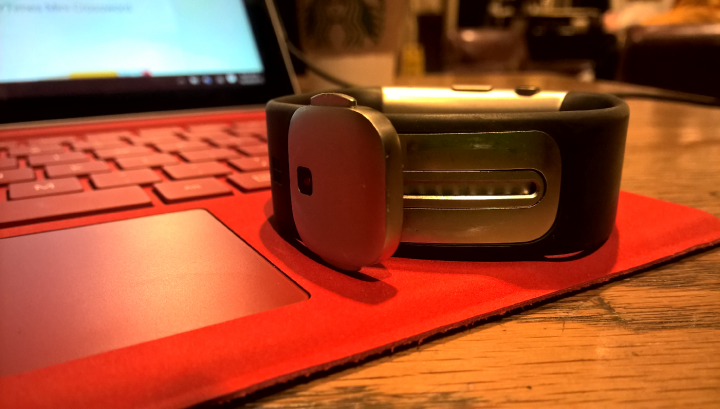 Not much has changed about that silicon, it's still gray and ensures that your wrist doesn't get nasty and sticky when you're active. Microsoft has upgraded to an AMOLED display that curves ever so slightly into the polymer band so that it looks less awkward. A metal accent adds some much needed visual flourish.
Embedded into the polymer band at opposite ends are a female clasp base that gleam and scratch easily. The outward facing metal male clasp has physical buttons on each end and a UV sensor that looks out. Buttons on the bottom of the display supplement the touch-screen for navigation purposes. You stick the two ends of the curved band together, the push them inward like a very light, very high-end watch, almost. There's a satisfying click that happens as you're adjusting. Two weeks in and the outer-surface of mine already looks pretty well worn, something I wasn't expecting.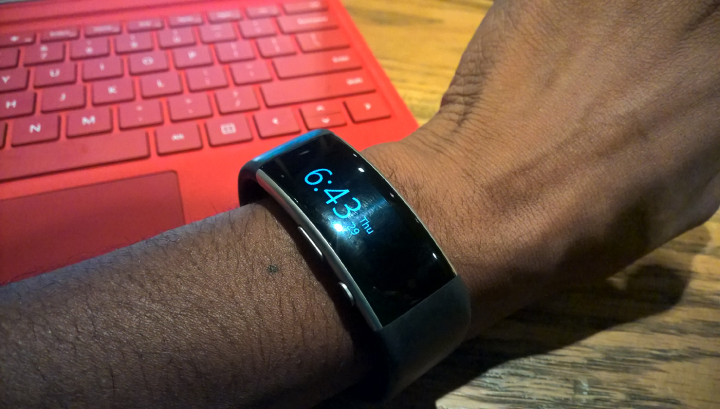 Microsoft's logo is embedded into the band.
That laser-like focus on delivering the best fitness band available influences design and internals. Inside, there's a science experiment going on.
Behind the 320 x 128 pixel touchscreen display and inside every inch of the Microsoft Band 2 are sensors. Many of those sensors are from the original version. There's an accelerometer to monitor the watch's position relative to your face and estimate your movements. The gyroscope provides some assistance with this too. Tucked inside are also an ambient light sensor, GPS, UV sensor, capacitive sensor, Galvanic Skin Response sensor, Microphone and Barometer. Aside from the Microphone and UV sensor, you don't see any evidence of these other devices while you're wearing it. Take it off and a sensor cluster emits green light for a bit before the device realizes you're not wearing it.
Microsoft Band 2 Review: Experience
What some people don't understand about devices is that they're aspirational. Convincing users to buy a device is all about giving them something to aspire to do. With the Surface Pro 4, people aspire to be more organized, productive and have a less complicated digital life, free from managing multiple devices. For the Microsoft Band 2 to catch the public's imagination, Microsoft needs to reach out to those who aspire to stay fit.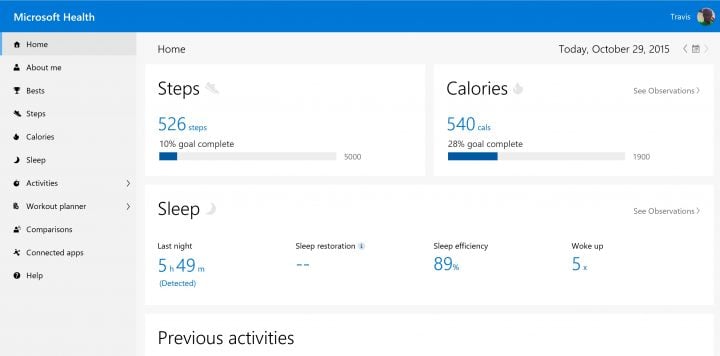 The company can also convince those that aspire to be more proactive about their health. There's far more people in this category. I should know, I fall into it.
I came to the Microsoft Band having only used a Fitbit Charge in the past. The Fitbit was fine, but I just couldn't find that spark I needed to get active. The Microsoft Band 2's brilliance lies in that it sprinkles active ingredients everywhere trying to ignite that spark.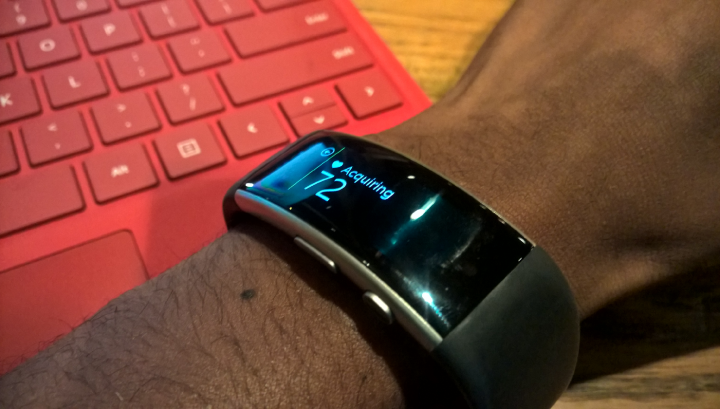 The on-screen interface provides at a glance breakdowns of your steps. Tapping that same tile gives you a brief breakdown of how many calories you've burned, miles you've walked, floors you've climbed (Thanks to that new barometer) and your heart rate.
The first time I saw this monitor I freaked about my heart rate being above the 80 mark while sitting. The next thing I did was head to the Microsoft Health website. There I found comparisons to other people. Turns out, I'm in the clear – I think.
Workouts & Tracking
Getting people motivated starts with workouts. Microsoft has programmed dozens of workout routines into its companion app and Microsoft Health website. Microsoft Band owners then load the workouts to their device. This worked flawlessly, and confirmed that I was in pretty bad shape almost immediately. The data that the sensors provided seemed accurate. Certainly, the GPS and barometer inside behaved as expected. I tracked my runs without carrying my phone pretty effortlessly.
Besides exercising, the Microsoft Band 2 supports almost any activity that'll get the heart rate up. It can track bike runs, golf outings, workouts made by big brands and just plain guided exercising workouts. I stuck mostly to running and sleeping, but did borrow a bike from a friend to try that too. With the bike, I left my phone at home and tracked the workout with the built-in GPS. I then synced everything back to my phone flawlessly. Running was just as convenient, but I stuck to keeping a phone in my pocket so that I could analyze my results at a local coffee shop.
The Microsoft Band 2 keeps compatibility in mind. There's not a single workout or crucial activity available to a Windows Phone user that isn't available to an iPhone user. Microsoft Health apps on the web and in each app store let you customize the accent color and line-up of tiles that appear on the band itself. You learn about and load new workouts and guided activities from these apps. I spent a week each using the iPhone and Windows Phone. I had nearly the same experience on both devices.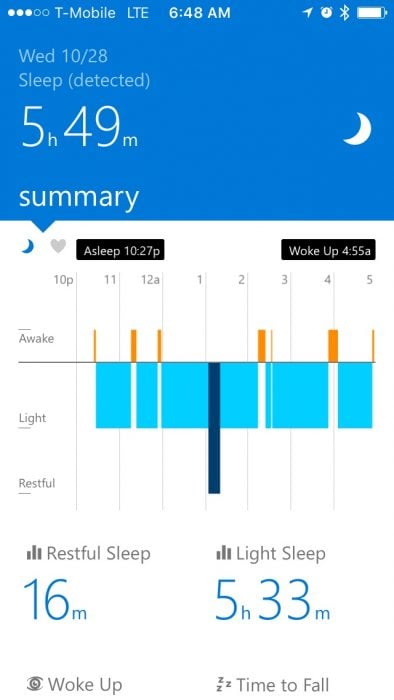 Staying Organized
I say, "Nearly" because there are some features that Microsoft reserves for Windows Phone. The Microsoft Band 2 wasn't designed as a way to replace your smartphone. That being said, it does have some limited options for keeping your phone in your pocket.
Paired with an iPhone, you can get alerts delivered directly to your wrist. When your iPhone rings, your Microsoft Band vibrates. The device communicates to every smartphone using low-power Bluetooth radios. Every once in a while I'd have to force the iPhone app to update, but that wasn't much of a concern.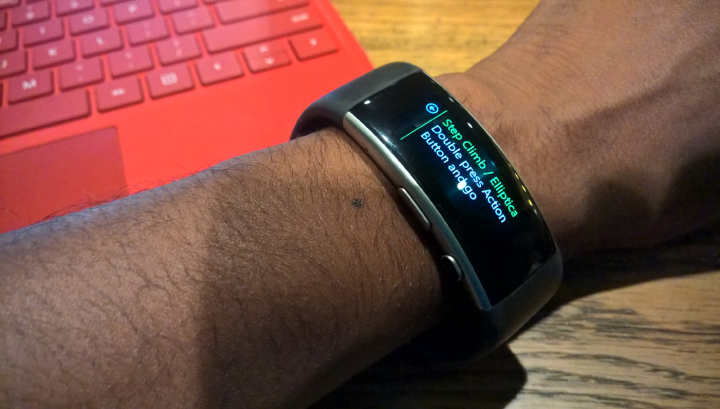 On Windows Phone you get an better experience. Cortana surfaces reminders on the Microsoft Band 2. Apps for Phone, Email, Calendar display the same content from your Lumia. When paired to an iPhone or Android device, you only get the notifications that your phone would normally surface on its lockscreen. Some would argue that iPhone and Android users are getting a lesser experience, but I didn't feel like there was anything really big that I missed. With Windows Phone you can peck out messages on the device's display instead of pulling out your phone, but I can't see normal people doing that even with tiny fingers. Asking Cortana questions from your wrist is cool, but not something iPhone and Android users will miss.
The Microsoft Health website gives users access to partner apps from Strava, MyMapFitness, RunKeeper and MyFitnessPal. Smartly, there's also some statistics integration with Microsoft's HealthVault service. HealthVault lets you securely share medical data with healthcare professionals. It's a key reason to buy into the Microsoft Band experience.
Only a single software feature seems blatantly absent from the Microsoft Band: music playback control for your work outs.
The biggest disappointment I had while using the Microsoft Band 2 was its battery life. Microsoft bills the device as lasting two days on a single charge. Maybe that's true for people who don't get notifications often, but I never hit that. Usually I got about one and a half days before I needed a charge. Mind, you I adjusted the vibration motor in the Microsoft Band 2 to its highest setting.
After a few days of it dying during sleep tracking, I took to charging it using the included magnetic cable each day while at my desk. Recharge times on the Microsoft Band 2 are around 2 hours to go from fully empty to fully charged.
Microsoft Band 2 Review: Should You Buy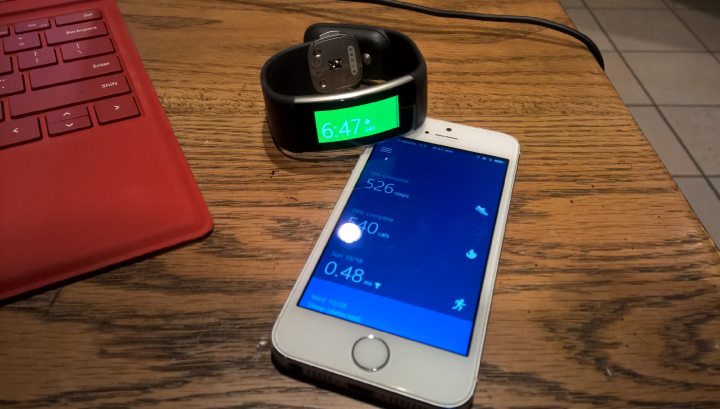 At $249.99 the Microsoft Band 2 definitely isn't an impulse buy. It firmly competes with the Fitbit Surge on every specification and sensor. They're also priced identical. The Fitbit Surge offers many of the same features as the Microsoft Band 2, while maintaining the same app presence on different smartphone platforms and offering some "gamification," an industry term for turning the process of staying fit into a game, complete with achievements.
What the Microsoft Band 2 has over the Fitbit Surge is HealthVault, the barometer and longer display. Unfortunately, that display means that the Microsoft Band 2 falls five days short of the Fitbit Surge's battery life. I'm not a fan of the metal-surfaced buckle.
I think that the Microsoft Band 2 is a great buy for those getting serious about fitness.  It has an understated look and enough sensors. My hope is that next year Microsoft adds more battery life in lieu of another sensor. The Microsoft Band 2 isn't too flashy and has almost all the right features. It's definitely worth its purchase price.

As an Amazon Associate I earn from qualifying purchases.