Microsoft Bets Big on Surface RT And Loses Big
In a big gamble on entering both the hardware space and the competitive tablet market with Surface RT (reviewed) and Windows RT, Microsoft announced in its earnings call that it had lost nearly $1 billion as part of that investment. The company reported that it has written off a $900 million loss this quarter alone related to the lightweight Surface RT tablet, a device that runs on a more restricted version of Windows 8.
In making sense of the numbers, Alex Wilhelm wrote on his person blog titled The New Radical that the loss is from Microsoft adjusting the price of the Surface. Originally debuting at $500, Microsoft had recently cut the price of the ARM-based tablet by $150, now asking for $350 for the tablet.
The charge reflects the new market value of the Surface RTs that are in Microsoft's inventory, the company's IR boss, Chris Suh explained to us over the phone.

He said Microsoft believes this new price point will help it start selling Surface RTs. He says Microsoft remains "100% committed" to the Surface business.
It's unclear how much of the $900 million write-off is from the $150 price cut from Surface RT alone. Based purely on Surface RT write-offs, Wilhelm posits that Microsoft may still have up to 6 million tablets in inventory that it has not sold yet.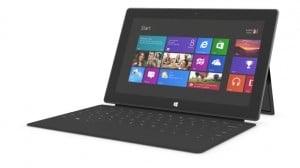 However, Mary Jo Foley of ZDNet had reported that Microsoft's new Chief Financial Officer had reported that the loss includes discounts on parts and other accessories as well.
"The write-off also includes parts and accessories, according to Hood on the call," Foley says.
In a separate report, Nathan Ingraham of The Verge simply states, "At the end of the day, though, it looks like Microsoft just made too many Surface RT tablets." That publication claims that sources say that Microsoft may have sold only 1 million tablets in March while it was building 3 to 5 million tablets in the fourth quarter alone.
So what went wrong?
Surface RT, which runs on the more crippled Windows RT operating system based on a more power efficient ARM processor is a confusing product in Microsoft's lineup. The company also has a more successful tablet, albeit one that is more expensive, that packs in more power in the form of Surface Pro, which runs on a powerful Intel Core processor and is powered by Windows 8.
The Windows 8 operating system can support the new Metro apps also legacy programs that were designed for Windows 7 and earlier while the Windows RT, which looks like Windows 8, could only handle the new Metro app. To compensate for the more limited catalog of apps in the Windows Store, Microsoft had made Office for Windows RT a free bundle, but consumers didn't bite.
So at the premium end of the Windows tablet and Windows computing market, we have devices powered by Windows 8 and run on Intel's Core processor. However, there are less expensive devices still that run the full version of Windows with Intel's Atom CPU. These tablets, while more limited in processing power, could still power legacy apps, like its Core counterparts. The value proposition is clear–if you want an ARM tablet, why not spend an extra $100-$200 and get an Intel Atom device that does so much more?
So Windows RT not only confused the market, it didn't offer any value. With its more limited capabilities, it was competing directly against the iPad and cheaper Android tablets, and those devices made better sense for many users. Other hardware partners in Microsoft's ecosystem, including outspoken Acer and Samsung, have shunned releasing RT devices in the U.S.