Microsoft Bets on 4G LTE as Surface 2's Savior for 2014
Can 4G LTE save the Surface 2? In addition to having announced the Surface 2, Surface Pro 2, and a slew of new Surface accessories, Microsoft will also be introducing a Surface 2 with 4G LTE connectivity, a first for the Microsoft-branded tablets. The 4G LTE-enabled Surface 2 would be launching in early 2014 according to the Surface team answering questions on Reddit.
At this time, pricing was not immediately disclosed for the Windows RT 8.1 edition of the tablet with LTE mobile broadband connectivity, nor did Microsoft state which carrier(s) in the U.S. would carry the tablet. The WiFi-only model was announced on Monday morning for $450 and would begin shipping in a little less than a month from now on October 22.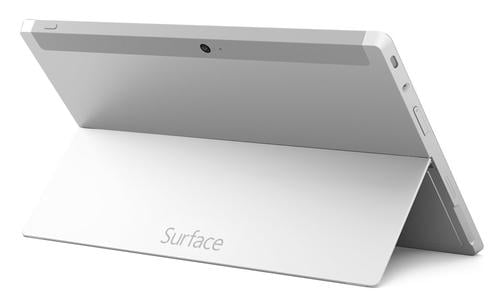 The LTE edition of Surface 2 would add GPS capabilities as well, which could allow the Surface 2 to be used as a car computer that could be used for navigation capabilities. Third-party companies like SoundMan Car Audio have created custom mounts for the iPad, iPad mini, Nexus, and Surface RT tablets in the past for in-dash car solutions in the past, and a similar solution for Surface 2 LTE could be made.
Given Microsoft's renewed focus on Surface and the Windows RT platform, it's unclear if LTE would make the Surface a hit with consumers as the tablet will have to compete against Apple's full-sized iPad and Google's larger Nexus 10 tablet, both of which are due for a refresh this fall. The iOS-powered iPad and the Android-powered Nexus 10 both benefit from a richer, more robust catalog of apps than that afforded by Windows RT.
This means that despite the hardware gains that are made with Surface 2 from the original Surface RT–a 1080p full HD display up from a 720p panel, a thinner and lighter form frame, better camera for Skype video calling, and a new Tegra 4 processor up from Tegra 3 on the predecessor–Microsoft still has not addressed the true shortcomings of Surface RT. Many of those still carry over to Surface 2.
Those include a confusing experience. Despite the presence of a classic Desktop on Windows RT 8.1 on Surface 2, the Windows on ARM experience is still very limited and Surface 2 won't be able to run any classic Windows apps. Instead, it's still confined to the limited library of Metro UI apps.
The original Surface RT launched at $500, a price that challenged Apple. However, for that pricing, consumers didn't bite and Microsoft subsequently had to take a $900 million write-off that resulted in Surface RT's $150 price cut to $350. Microsoft even went as far as courting iPad owners to the Surface line with trade-in incentives. While the incremental upgrade of this new generation of Surface offers an improved experience, consumers may still find the $450 pricing a bit steep.
Sure, Microsoft's Touch Cover 2 and Type Cover 2 keyboard covers are nice, but similar experiences could be had with ZAGG's excellent range of iPad-specific covers.