Microsoft Buys Minecraft, Says iOS & PlayStation Versions are Here to Stay
Microsoft, makers of the Xbox One console and the Surface family of tablets, announced a bold new step in its plan to reach gamers of all ages. Today, the company revealed that it's buying video game developer Mojang and adding Minecraft to the long list of titles that it produces for video game consoles and PCs.
Microsoft revealed the purchase early this morning on many of its company blogs For $2.5 billion, Microsoft will acquire the entire studio that was set up to manage and create new updates for Minecraft. Founded and managed from Sweden, Minecraft and Mojang were the brain child of Markus Persson. Persson created Minecraft himself.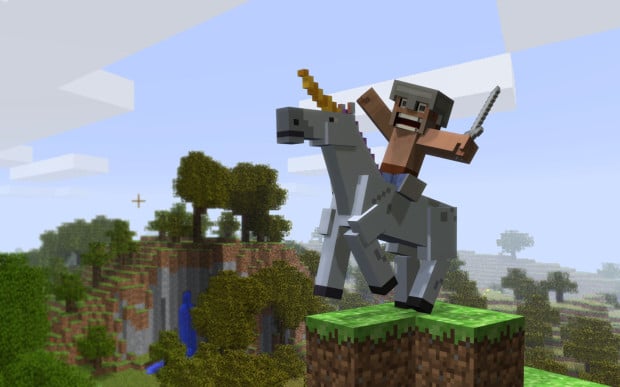 Minecraft is one part survival game and another part creative sandbox. The game has enemies that users have to save themselves from, but its best known for allowing players to creative ever expanding worlds. With the right tools, players are able to create just about anything they want. Most use the different blocks and materials to reconstruct things from other mediums – for example, one of the most popular Minecraft videos on YouTube takes viewers on a tour of the Enterprise D from the science fiction show Star Trek: The Next Generation.
Minecraft has become a sensation of sorts. Educators use the game to stimulate creative processes in children all the time. In 2012 Mojang even partnered with the United Nations to build environments on in the game that are based on real world counterparts. The two hoped that the recreated environments would stimulate citizen involvement in urban planning and boost community support for improving their own surroundings.
The game started out on Windows PCs, but spread to all sorts of devices very quickly. Today, Minecraft is available on Windows PCs, iPhone, iPad and Android. It's also available on the PS4 and PS3, the arch-rivals of Microsoft's Xbox One and Xbox 360 consoles.
Some longtime Minecraft fans are already concluding that Microsoft buying Minecraft is a simple way to acquire a very popular exclusive for its Xbox One console. That line of thinking relies of Microsoft being out to boost sales of the Xbox One by any means. On the surface, that doesn't seem to be the case.
In conforming the purchase of Mojang on Xbox Wire, Xbox head Phil Spencer lavished the game with praise, saying that it alone was responsible for over 2 billion hours spent on Xbox Live. He also clarified the company's position on the many versions of Minecraft that are available saying, "[…] We plan to continue to make Minecraft available across platforms – including iOS, Android and PlayStation, in addition to Xbox and PC." Spencer also confirmed that MINECON, the tradeshow that connects different parts of the Minecraft enthusiast community would be held as planned next year.
In the last year, Microsoft has shown that it is willing to reach out to all users on whatever platform their on. Apple's iPhone boosts dozens of Microsoft made apps — some even better than what's available on Microsoft's own Windows Phone mobile operating system.
Unfortunately, Persson and Mojang's other founders won't be staying along for the ride. Microsoft says that Mojang will become a part of its Microsoft Studios, family of game developers sometime later this year. The founding leaders of the studio, including Persson, who is most often referred to simply as "Notch," will leave the company.
Read: Mojang Shares Minecraft for Xbox One & PS4 Details & Discounts
After months of waiting, Minecraft recently arrived on now current generation consoles from both Microsoft and Sony. Minecraft for Xbox One costs new players $19.99, but falls to just $4.99 for anyone who has already purchased the Xbox 360 version of the game. The same goes for Minecraft for PS4. Both versions have bigger game worlds than their counterparts for the Xbox 360 and PS3. Users can transfer their game worlds to the newer version without losing a single thing except some add-on content that may not have been cleared for the two new releases.

This article may contain affiliate links. Click here for more details.