Microsoft Copies Chromecast in Epic Fashion
Microsoft has long offered the Xbox One and Xbox 360 consoles as a way to get some of its experiences in the living room, but now it's supplementing those devices with the Microsoft Wireless Display Adapter. In short, the new device is designed to do exactly with the Google Chromecast does, easily share what's on their screen with friends, family and co-workers without having to plug in a single cable.
Microsoft announced the Microsoft Wireless Display Adapter in a post on its Windows Blog earlier today and Google Chromecast's influence is pretty clear. The Microsoft Wireless Display Adapter is simply a small black dongle that plugs into the HDMI port on a user's television or monitor. A USB port sticks out of the back of the Microsoft Wireless Display Adapter, it's meant to keep the device powered so that users don't actually have to plug it into a power adapter.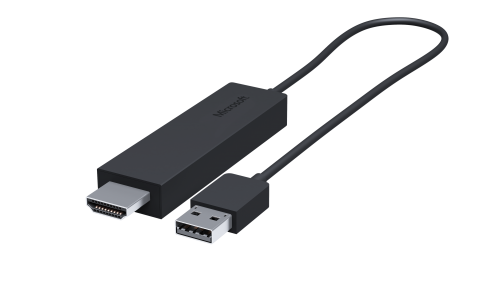 Thankfully, Microsoft isn't trying to invent its own standard in the way Google sort-of did with the Chromecast the adapter. The Microsoft Wireless Display Adapter uses Miracast streaming technology to allow users show what's on their Windows and Windows Phone devices onto a larger screen. Miracast is almost a defacto standard at this point. It's included in most tablets running Android and is a banner feature of the Windows 8.1 update that arrived last year. A few months ago Microsoft released Windows Phone 8.1. With that update users can watch movies in Netflix, present in Power Point and more without having to hook in with this new adapter too.
Microsoft is taking pre-orders for the Microsoft Wireless Display Adapter already. When it arrives on store shelves in October it'll cost $59.95. Microsoft's own retail stores and Best Buy will carry the Microsoft Wireless Display Adapter for those who prefer to pick it up in stores.
Google Chromecast does the same thing that Microsoft's Wireless Display Adapter does with a few differences. First, whereas Microsoft's solution is built into the operating system, Chromecast is all about tying users to the Chrome web browser or Android. Windows users can stream things from Chrome for Windows to Chromecast or they can download an app to their Android device that is Chromecast compatible and stream directly from it. When it was announced Chromecast was a revelation. Suddenly, there was this easy for basic users to stream content to their television. No complicated remotes and almost no setup. At $35 it's also ridiculous cheap.
This past year Google added some new abilities to Chromecast. Newer versions of the software that Chromecast runs will allow users to get notifications and see slideshows of their pictures on a television or monitor with Chromecast installed. As Google had a pretty hard time keeping the Chromecast in stock, it's believed that the device is wildly successful, though the free subscriptions to Netflix Google included with the dongle may have boosted sales.
Read: The Chromecast, What It Should Have Been
The problem for Microsoft is clear. Whereas Google positioned the Chromecast as a cut throat way of getting serious about living room entertainment, the Microsoft Wireless Display Adapter is blatantly an accessory. Typically, high-profile Microsoft hardware launches come at events scattered throughout the year. This one was launched with just a post on an official blog. Secondly, it all comes down to pricing. Google's Chromecast is compatible with Windows 8 and Windows 7 devices already and costs $25 less than what Microsoft is offering. Even if streaming is a growing priority for Windows users – and there's no guarantee that it is – the Microsoft Wireless Display Adapter isn't even capable of competing with Chromecast on a large-scale.
Many tablets and desktop computers running Microsoft's Windows operating system are already compatible with a wireless display technology. It's called WiDi and support for it is included in any device that has an Intel Core processor and is running Windows 8.1. That technology also needs an adapter that runs about $50.

As an Amazon Associate I earn from qualifying purchases.