Microsoft Cuts PCs by $100 for Users Abandoning Windows XP
With Windows XP support ending in just a few weeks, Microsoft is pulling every trick it can to get new PCs with their modern operating systems in users hands. This week its enticing users by slashing $100 off the PCs it sells if users are willing to transfer their data.
The new deal is currently available on the Microsoft Store website, and features a ton of different PCs to purchase and redeem that $100 discount. The selection runs the gamut of Windows 8.1 PCs, from notebooks to tablets and convertibles. There are even some touch-screen equipped all-in-ones and Microsoft's Surface Pro 2 tablet included in the deal.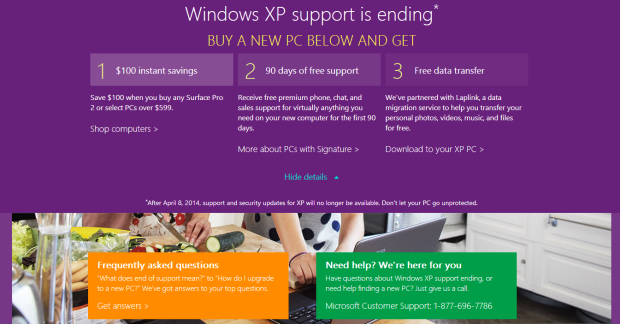 Users must make their new PC purchase with their Windows XP equipped machine online to be eligible for the discount. Users who head to participating Microsoft Store locations also will need to present a PC running Windows XP to take advantage of the offer. Unfortunately, anyone who had their eye on the Windows 8 RT-equipped Surface 2 tablet is out of luck. Microsoft has marked down only specific PCs for the promotion. Unfortunately, the Surface 2 isn't included in the deal nor are any PCs priced lower than $599.99.
Microsoft won't let buyers add other discounts or promotions to this deal either.
There's no rush for users who don't live near a Microsoft Store just yet. The deal will run until June 15th. Unfortunately, it's a better idea for users to take advantage of the deal now, Microsoft is holding the promotion because it's dangerously close to phasing out support for Windows XP. Microsoft's partners originally started selling PCs loaded with Windows XP in 2001. It stopped letting its partners create PCs with Windows XP loaded onto them in 2009, three years after it introduced its replacement: Windows Vista.
It's a very good idea to make the switch now, especially since Microsoft has partnered with Laplink to help users transfer their media and documents for free. Once Windows XP support ends, Microsoft will no longer update the operating system with new security fixes and updates. That makes Windows XP machines a prime target for hackers, spammers and identity thieves.

This article may contain affiliate links. Click here for more details.