Microsoft Details Enterprise Email, Communication Features of Windows Phone 7 Mango Update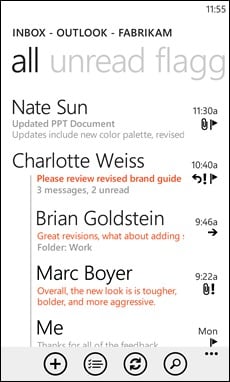 At the TechEd conference, Microsoft had announced some enterprise email features behind the forthcoming Windows Phone 7 update called Mango, which is set to debut on May 24th. In addition to better Bing integration, Facebook integration, and visual voicemail support, Microsoft is revealing that there will be some nice changes to the email app and hub, including pinnable email folders, conversation view, server search, and Lync mobile communications capabilities.
With the Mango update, which is expected to roll out later this year, users can pin important email folders to their Windows Phone 7 homescreen. Microsoft says this can be a folder dedicated to a specific project or a folder created for a specific person that you're communicating with, or an RSS feed set up through Outlook. Additionally, emails will also be threaded and users can follow their email correspondences in a conversation view. Server search will also be enabled which will give users the ability to search their email servers for old messages no longer stored on their phones. This will give users access to their entire email archives, and not the few that are synchronized to their devices. Lync Mobile integration, which will be available as a downloadable app from Marketplace, will allow users to see the presence of their co-workers and set their own status–if they are available, out to a meeting, or on an important call, for example.
Additionally, IT departments can be pleased with more security enhancements to Windows Phone 7, including more complex alpha-numeric passwords, and support for hidden corporate WiFi networks.
Via: Windows Team Blog

As an Amazon Associate I earn from qualifying purchases.