Microsoft Details Stringent Specs Required of Windows 8 Tablets
At the All Things D conference earlier, Microsoft had announced and demoed basic features behind the Windows 8 user interface, showing off the new Live Tiles UI and HTML5 and Javascript apps, but the company left some lingering questions unanswered about its strategy and how it hopes to compete with always-on operating systems like iOS, MeeGo, and Android. Now, a few hours later, Microsoft has arrived with some answers to its tablet strategy at the Computex trade show in Taiwan.
The company will be trying to maintain tight control between hardware and software.
Display Resolution: In addition to supporting new ARM-based chip architectures, Microsoft had implemented some basic hardware requirements to create a smooth user experience, much like what the company had done in creating guidelines for Windows Phone 7 hardware development. For example, it is now standardizing on several screen resolutions, and a miminum 1024 X 600 display–the same resolution on the HTC Flyer–is now required for the traditional tablet PC look. However, to use the new Live Tiles, Metro-inspired UI from Windows Phone 7, the display must have a minimum iPad-inspired 1024 X 768 resoltion and displays with 1366 X 768 resolutions or higher are recommended. Though not required, a 16:9 aspect ratio is suggested.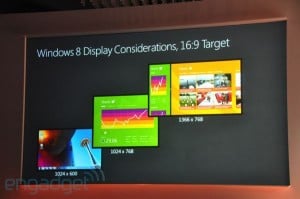 Preferred 16:9 Ratio: The 16:9 aspect ratio suggestion and not a requirement may be smart as Microsoft may not want to alienate enterprise customers. In my last meeting with HP, the company says that it is maintaining its 16:10 aspect ratio tablet PC display rather than switching to 16:9 like the rest of the industry to accommodate the needs of enterprise customers, whose apps may be built around that aspect ratio. As tablet PCs have historically been mostly adopted by enterprises, Microsoft may not want to alienate its traditional audience. Also, the 16:10 aspect ratio may be more apt for handwriting as it feels more like a traditional page.
Despite HP's best intentions for trying to maintain legacy support, the industry has been slowly transitioning to 16:9 aspect ratio displays due to cost and influences from the HDTV market.
Always-On, Instant On: The company also promised instant-on, signifying that consumer OSes like Android and iOS are now influencing the tablet PC market. The company described an always-on mode where the system itself would go to sleep, but would continue to update in the background, much like how phones can continue to get emails when the display is turned down.
It's unclear, however, if what kind of effects the always-on mode will impact battery life. In the past, Windows tablets have either been power-hungry with powerful processors, or are more energy efficient with Atom CPUS that risked some aspects of a fast user experience.
ARM Support: Also on display at Computex were quad-core ARM-based notebooks and tablets utilizing NVIDIA's un-released Kal-El CPU for hardware-accelerated HTML5 rendering. The company also showed off some Qualcomm Snapdragon chips on stage.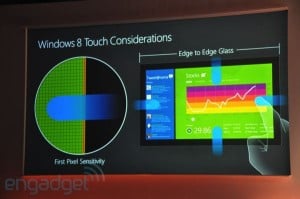 Edge-to-Edge Screens, Gestures: Another requirement is an edge-to-edge display where users can interact by swiping, similar to some of the gestures on the RIM BlackBerry PlayBook for switching between apps by swiping from the edge of the display inwards. It's unclear if Microsoft will implement other screen gestures as well, but touch seem to be the forefront of the Windows 8 update.
Un-Answered Questions: What the company still hasn't talked about that is definitely an interest to tablet PC enthusiasts is pen and inking functionality. Whether Windows 8 would continue support for inking, and whether hardware manufacturers will see it fit to deploy active digitizers and screens that support advanced pen features is unclear at this point as much of the emphasis on the display has been centered around touch, a new split-screen keyboard, and some gestures for multitasking.
At the presentation, Microsoft has still yet to address concerns about its Windows 8 development program that is attracting criticism among some PC-makers.
Via: Engadget

As an Amazon Associate I earn from qualifying purchases.