Microsoft Display Dock Review
Microsoft's smartphone efforts are stuck in a rut. Five years after it first tried to take on Apple's iPhone and Google's Android with a modern mobile operating system of its own, the company has relatively little to show for its efforts. Windows Phone is solidly in third place in mature markets. Around the world its in better shape, but still not the hit smartphone operating system that Microsoft hoped for in 2010 when it unveiled Windows Phone 7. The tiny Microsoft Display Dock is designed to help with Windows Phone's struggle.
To be clear, the Microsoft Display Dock isn't designed to fix Microsoft's mobile woes on its own. It's an accessory for Windows Phones running Microsoft's Windows 10 operating system for mobile devices. The company hopes to change the way people see phones themselves. As iPhones, Android devices and Windows phones get processor upgrades, there's very little that sets them apart that Microsoft can point to as an easy advantage.
Connect a Microsoft Lumia 950 or any device with a USB Type-C port into the Microsoft Display Dock and you get a more PC-like experience. There's support for keyboards, mice and other USB accessories. Early on, I thought this idea was pretty ridiculous. It wasn't until I tried it in my own home instead of a reviewer's workshop that I fully appreciated how the Microsoft Display Dock could have a profound effect on the smartphone space.
Microsoft Display Dock Review: Design & Internals
An exquisitely designed metal box. That's the best way to describe the Microsoft Display Dock. It's a tiny, nearly square object, measuring 2.52 inches from left edge to right. A matte black Microsoft logo sits at the top of the Microsoft Display Dock, reminding you who created the device and why its useful.
On the front there's a single USB Type-C port. Microsoft is just the latest device maker to introduce USB Type-C ports for its devices. The ports are interchangeable and capable of sending and receiving data faster than MicroUSB, the standard port on all smartphones not made by Apple until very recently. This port acts as bridge between the powerful internals of Windows phones that support the Continuum feature and the ports that are built into this dock.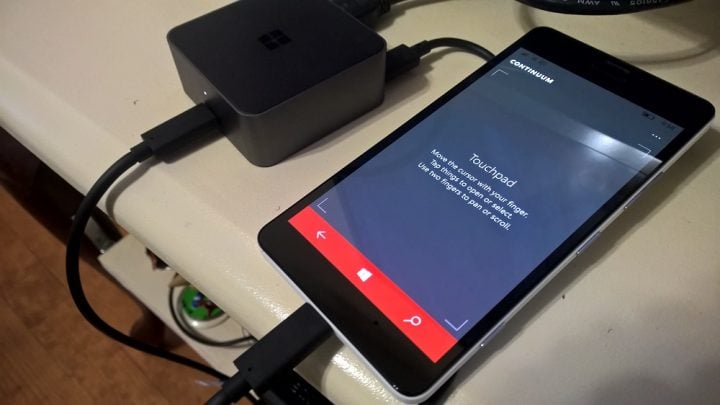 To connect to televisions and monitors there's Display Port and an HDMI port, instantly making this dock compatible with every modern display that a user might have at their disposable. Two USB 2.0 ports provide places to attach a mouse, keyboard or other accessory. My favorite accessory of choice was an external hard drive with all my files on it.
What surprised me most about the Microsoft Display Dock was its weight and build quality. The device weighs 8 ounces. Tension from the cables that you plugin or the displays the phone that you connect aren't a problem. The dock never moves or shifts when connecting or disconnecting.
Microsoft Display Dock Review: Experience
Except for the required phone, Microsoft includes everything that users need to get going. A power supply and USB Type-C cable are included. Those that assumed the Microsoft Display Dock is just a ploy to get Windows phone on to televisions to watch video are mistaken. Microsoft hopes to change the conversation in mobile. "What if your smartphone could be a PC," the company is asking.
The first couple of days I had the Microsoft Display Dock and a matching Lumia 950 were disappointing to say the least. The dock itself relies on the processors and hardware of the phone it's connected to for everything. The Lumia 950 I had was bug ridden for weeks. Watching video on the Microsoft Display Dock through the Edge web browser was painful. Other apps would crash for no reason. It was unfortunate, given that setting up the Lumia 950 and the Microsoft Display Dock was pretty easy. I went back to using a Surface Pro 4 while Microsoft got its software in order.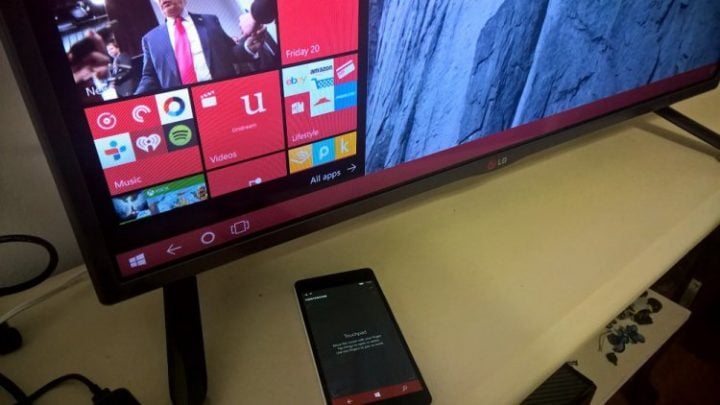 When I returned, the Microsoft Display Dock and Lumia 950 both had software updates to address the issues I'd experienced. That allowed me to substitute them both for the device that I normally used to get through the work day.
When you're connected to the dock, an on-screen Start Menu surfaces from the left corner of your display with your Start Screen layout from your phone. The same apps downloaded from the Windows Store scale up, better taking advantage of the available space of a larger screen. Mail looks Mail from regular Windows, for example. "Cool," I thought every morning as I set about my daily routine of browsing websites and checking email before getting down to work.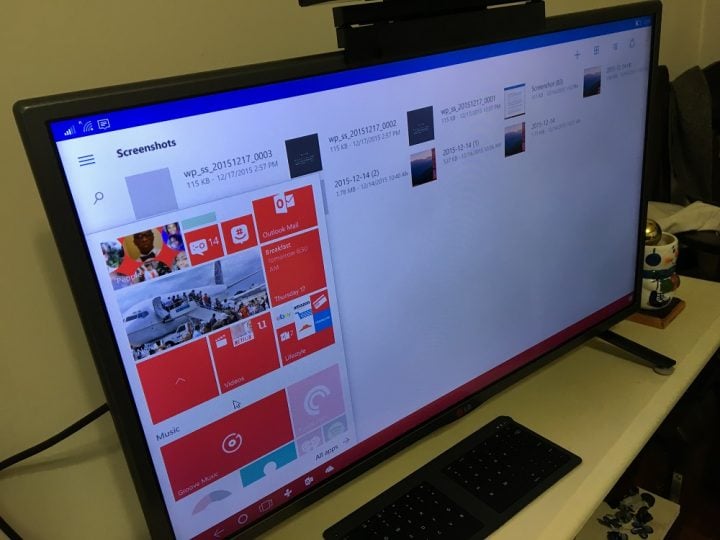 Even after work started, I stuck with the Microsoft Display Dock and the Lumia 950. I wrote articles and searched for new topics using the apps that were installed on my phone. I did have to switch to Microsoft's Edge browser to get through the day since Windows 10 doesn't let users install programs like Chrome. I wish I could say that I didn't feel limited with this setup, but I did. The Windows Store has a growing number of essential apps, but even those that are already available aren't necessarily compatible with Continuum and the Microsoft Display Dock.
iHeartRadio and TuneIn weren't early on. Microsoft's own Xbox app still isn't available in this mode. To use those apps I had to return to my phone's Start Screen, which still works as you'd expect, even while in Continuum. Compatible will always remain my biggest concern with this feature. Windows has a growing stable of apps, but I'm not sure anyone is ready to give up every program they use.
A few times I received a call. When this happens, the phone itself rings. The device's screen also doubles as a touchpad if you want it to. I'm not sure if it's a bug, but audio would always play out of the phone's speakers, even when I had a display attached with speakers of its own. This is also clearly not real Windows. It's missing some features everyone depends on like Titlebars for apps, resizable windows and other must-have things. It's close, but not close enough.
Microsoft Display Dock Review: Should You Buy?
I can't say that you should purchase a Microsoft Display Dock and Lumia 950 for Continuum alone. There are other things that should factor into a decision like that, price and your attitude towards Windows phone mainly.
I can say that if you have an AT&T Lumia 950 already or plan to purchase one, this accessory is an absolutely must buy. It completes any compatible Windows phone. I'd argue that's it's one of the few reasons to be interested in Windows for phones right now.
Read: Microsoft Lumia 950 Review: The Phone That Can Be a PC
Gotta Be Mobile has an in-depth review of Continuum and the Lumia 950, it's definitely worth a read for anyone considering purchasing the Microsoft Display Dock.